Welcome back boys & ghouls! Did you miss me? I know I'm missing a lot of things this week, days off, campy B-movies, and true scream queens! That's why I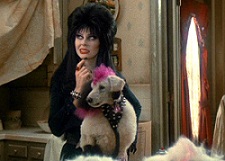 decided to dig into my 80's flash back box and pull out the Queen of Scream herself, Elvira! Well, not really, but wouldn't that be awesome? Now, I'm not going to delve too deeply into the Madame of the Macabre tonight. That will be for another night of thrills and chills, tonight we focus on her 1988 horror comedy Elvira: Mistress of the Dark! A B-movie with a DD rating, what more could you ask for?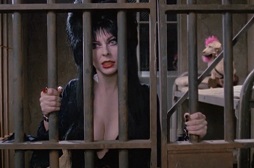 Playing herself, the downtrodden late night presenter of the horrible horror we all love, Elvira serves up the scares with sexy style and a side of sarcasm.  Okay, maybe more than a side, more like the main course. After being pawed by the pervy station manager, who tries to grab more than a handful, she quits her job and heads to Vegas to headline. Or that's what she thought, until her agent told her she has to come up with the funds for her big Vegas show. Luckily she gets a call telling her a distant relative has kicked it, and she must make a pit stop in a small town to pick up her inheritance.  Hoping for big bucks, she heads to Falwell, but instead of moolah, she gets stuck with her great Aunt Morgana's dilapidated manor, a big book of recipes and her dog; she deems in need of a punk poodle makeover. She also gets a sinister uncle and a cold unwelcome from Falwell's prudish townsfolk, led by the pitchfork wielding Morals Committee, headed by Chastity Pariah (played by Edie McClurg).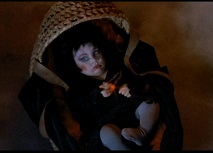 She may be an outcast among the elders, but she finds friends among the kids of the town, who are desperate for fun, ala Footloose. Kevin Bacon was busy, so Elvira came to liberate them from Sunday school and 7pm curfews. She finds that she needs all the friends she can get when her great uncle Vincent comes looking for the book, and will stop at nothing to get it. Filled with recipes for good and evil, she discovers that it hold the key to finding out just who her aunt Morgana really was, and a few clues to her own haunted past.
When I'm aching for that good ol' 80's horror humor, this is at the top of the list of go to flicks. It's a fun favorite, and to me
is still superior to her 2001 film Elvira's Haunted Hills, which was funny, but just lacked the little something extra that this one has. Likely just nostalgia. Though there were scream queens before her, she will always by my scream queen. The original purveyor of Fiendish Flicks, she is the dame of the damned, the mistress of the macabre, and this girl's heartfelt heroine of horror, who introduced me to the wonderful world of the weird through her tv series Movie Macabre.
Well that's all she wrote…er, I wrote. Turn down the lights, pop the popcorn and scare up some fun! Until next time!
– Ruby