Lars von Trier recently [remotely] broke the news at a screening of the Director's cut of his films Nymphomaniac I & II in Venice, that after a 20-year break, he'll be returning to the small screen with a series called The House That Jack Built. His last tv stint being the Danish series, Kingdom Hospital, which later was adapted by horror Writer Stephen King for American audiences. Very little details have been released on the show's premise. It's title's relation to the Mother Goose nursery rhyme is the common speculation, though there is a movie also being released this year by Henry Barrial & Joe Vasquez of the same name.
Lars von Trier had previously vowed not to take interviews or make public statements, so Zentropa Producer Louise Vesth spoke on his behalf, while he waited in the wings, saying,  "Now, when he's not able to speak, so he cannot say that it's not true, I'm happy to announce that the next Lars von Trier project will be a TV series in the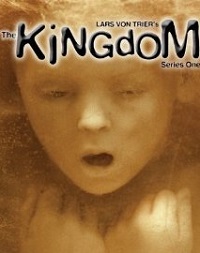 English language. He has a really really good idea which I cannot tell more about right now. He wants a huge cast and from what I heard I'm sure that it will be something that you have never seen before and you will definitely never see it again."
Executive Producer Peter Aalbæk Jensen stated that the show will be "without precedent" and warned viewers, saying, "You better hold your breath."
Production company TrustNordisk is touting a huge international cast, a promise that they no doubt will deliver on, with half of Hollywood alone falling all over themselves to take part in Von Trier's films. Seen as provocative, his most recent film Nymphomaniac I&II, starred Shia LeBeouf, Charlotte Gainsbourg, Christian Slater, Uma Thurman & Stellan Skarsgård. 
After the release of the Nymphomaniac films, von Trier promised an end to the depression series, that included Anti-Christ (with Willem Dafoe) and the 2011 film Melancholia, starring Kirsten Dunst, so the direction the series will take is anyone's guess. He has begun penning the script, shooting for release in 2016.
SOURCE: Deadline