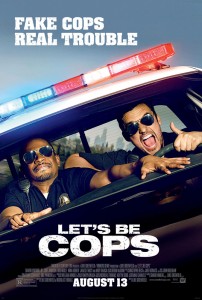 Directed by: Luke Greenfield
Written by: Luke Greenfield and Nicholas Thomas
Starring: Damon Wayans Jr., Jake Johnson, Nina Dobrev, Rob Riggle, Keegan-Michael Key
Friends Ryan (Jake Johnson) and Justin (Damon Wayans Jr.) mistakenly wear cop uniforms to a masquerade party. The party doesn't go well, but once they leave, people treat them differently while they are in the uniforms.
With all this new attention, the friends find themselves using their badges for good by breaking up the bad guy Mossi's (James D'Arcy) henchmen at the duo's favorite restaurant. With this bust, and surge of power, Ryan wants to continue being cops while Justin isn't so sure. But naturally, the movie is called Let's Be Cops, so cops they will be. The scene where the guys address a call at a sorority house is one of the funnier moments.
The best part of this movie was the friendship between Ryan and Justin. They have good chemistry (evidenced by the their TV show New Girl) and that chemistry makes the two likable and realistic.
The plot is not only pretty predictable, but it also relies heavily on coincidence. The guy's favorite restaurant is the target of Mossi, and Mossi's ex-girlfriend is Josie (Nina Dobrev), a waitress who is the love interest for Justin. The script also lags from time to time when not much is happening and leaves you wondering when, the already under two-hour movie, will be over.
But where the script falls short, the guest appearances pick it up. An appearance from Keegan-Michael Key is hilarious as a criminal turned informant . The scene where Wayans Jr. dresses as Key's character is one of the best and delivers the strongest laughs. There's also a great appearance by Rob Riggle (21 Jump Street) as a cop who fully believes the two guys are actual cops. Andy Garcia also pops up in a pretty predictable supporting role.
But there are also some duds. Nina Dobrev, star of Vampire Diaries, is pretty forgettable as Josie. She wasn't even featured in any of the trailers and I didn't even know she was in the movie until Comic Con last month. And James D'Arcy also disappoints as a pretty lackluster villain.
With the strong appeal the 21 Jump Street films brought to buddy cop comedy movies, I wouldn't be surprised if more movies like Let's Be Cops pop up. But unlike 21 Jump Street, Let's Be Cops suffers from a weak plot and not very many laughs. The chemistry is strong, but both the team of Johnson and Wayans Jr., and the audience itself, deserves a better movie.
If you want to see Let's Be Cops, do your wallet a favor and wait to see it on TV.