Best Female Based Action Movies
Aliens
Caliber Winfield: Really, this was the first time we'd ever seen a woman truly kicking ass. Sure, during the 70s we had a run of films with Pam Grier where she was handling things, and before that we had the likes of Mae West using her sexuality to kick ass, but Weaver delivered more alien-ass on a silver platter than just about any woman, or man had done before. From wielding everything from machine guns to flame-throwers, and finally a giant-robot suit, she introduced the business end of anything in reach to countless aliens. These weren't some simple, hum-drum aliens either, these were arguably the most bad-ass creatures of all time. She got done what an entire team of Space Marines couldn't. Hopefully, we'll see Weaver in Expendables 4, because she more than deserves the spot, if only for this film.
Kill Bill
Derek Johns: Kill Bill Vol. 1- To me nothing says says female action movie quite like the first half of the Quentin Tarantino's kung fu epic Kill Bill. Of course, there's Uma Thurman unforgettable performance as The Bride out for vengeance. Even without Thurman there are plenty of other women in this film to kick ass. There's also Lucy Liu as the orphaned army brat turned expert hitman turned ruthless crime boss. Vivica A. Fox as the retired but still very dangerous fighter Vernita Green and Battle Royale's Chiaki Kuriyama as the psychotic schoolgirl assassin Gogo Yubari. The combined efforts of these actresses make some truly memorable fight scenes and what just might be Taratino's most awesomely violent film to date (which is really saying something).
Patricia Márquez: This was a tough one, because there are so many action movies with female leads that I enjoy (Aliens, Dragon Tattoo, Angelina Jolie flicks) but I'm going to have to go with Kill Bill I and II. I just revisited these movies last month, and I forgot how much I loved them when they first came out, when I was 19 years old. I was obsessed! It's interesting because whenever I'd mention Kill Bill to my peers, they would basically frowned upon them (i.e hated them), so the general consensus I had for a long time was that Kill Bill is considered Quentin Tarantino's worst franchise. How I disagree!
While watching them again recently I was fascinated by how Uma Thurman's The Bride is the perfect assassin and warrior. In fact, one of the major themes in Kill Bill II is how she must face the truth that she made an egregious mistake in trying to run away from Bill to assume a normal life, thus rejecting her basic nature of being a killer. It's difficult for me to think of another movie where the female lead is so absolutely dangerous. The Pai Mei sequences make one forget she's a woman at all; her training is as rigorous and grueling as it would be for any man's. But it's not as if we are meant to forget she's a woman; after all, her entire revenge saga is built upon the idea that she lost her daughter and was denied this alternative life in which she would have been a mother.
So we have it both ways; a badass warrior/assassin as our protagonist who just happens to be a sympathetic parent. I think my cinephiliac peers who hated Kill Bill (all of whom were men, by the way) had disdain for it because the violence is projected at women, which of course makes anyone uncomfortable (personally, I think the hospital rape scene could have been left out). But I applaud Tarantino for making a very Tarantino-esque film (violent, talky, stylized) featuring a strong female lead without the topic of her femininity featuring too much into the plot (he does the same with Shoshanna in Inglorious Bastards, no?). He's not trying to make a statement on the role of women in action movies; he's just making f'king cool movies. Also, let's not forget the characters of Elle Driver and O Ren Ishii. If only all action movies gave us this caliber of interesting female villains to look up to!
Gone with the Wind
Eric Norcross: I don't care for action flicks so I chose a regular female lead film. Scarlett O'Hara is a prime example of a strong female lead. What's fascinating about this character is that she starts off as a completely useless (if not incredibly manipulative and off-putting) southern belle but grows into a strong, independent woman that ends up dealing with some pretty horrendous sh*t. By the end of the film, she's become one of the most powerful females to lead a film in the history of Hollywood (up to that point). She is portrayed by Vivien Leigh in an impeccable performance.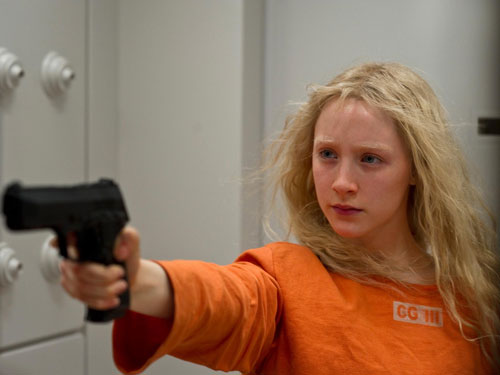 Hanna
Ruby Le Rouge: I think Ive said this one for another theme, but I'm going to pick Hanna, about a 16 year old assassin played by Saoirse Ronan. (She now played an assassin in several movies. I guess if you are going to be type cast, it doesn't hurt to kick ass while doing it.)
The character is interesting and was really well done. Making a teen aged girl into an assassin with the strength and intelligence of a skilled soldier could have gone really cheesy, but it wound up being a lot more sophisticated than you would imagine such a premise to be.
Shawn S. Lealos: Joe Wright is easily one of my favorite filmmakers working today. Honestly, the guy made a chick flick that I ended up loving (Pride & Prejudice) and then made a historical chick flick that I ended up loving (Anna Karenina). And, in between, he made an action movie (with a female lead) that I just completely fell in love with. Hanna was just awesome, with Saorse Ronan proving she is a huge talent and giving us not only awesome action shots but also some amazing camera work and a great little story. I loved this movie and I was not surprised because Joe Wright is just one of the best filmmakers working today.
Foxy Brown
Mike Luxemburg: Foxy Brown always and forever. I love the strength and power of Tarantino's female leads, the Alien saga's Ripley, and Katniss Everdeen, but Foxy Brown was one of the first and too my mind the best. It's one of the most intense exploitation films ever made, but it is captivating for one reason and one reason only, Pam Grier absolutely leaks power throughout the film. Castrations, murders, and all sorts of sex and violence litter the movie, and it can be brutal across the board, but it's worth it to see Grier at the peak of her powers. The movie has 70s style in spades, from snappy dialogue to saturated colors, and garish costumes. It's a dated movie with a lead performance that will stand the test of time.
The Fifth Element
Bethany Lewis: I'm going for Milla Jovovich in The Fifth Element. She's strong, she's smart, she's badass, and she rivals Bruce Willis in unflappability and resilience. Willis is cool and all, but the real star of the show is Milla, who has attitude mixed with a believable level of vulnerability. I think it's reasonable to have a quick cry after being shot at through the ceiling. The point is that she moves on and gets stuff done.