So season three of the smash hit BBC series of Sherlock is finally available to stream on Netflix and I know some people who could not be happier. If you don't live in the UK and you missed it on PBS and didn't want to spend the money on rentals, then you've been patiently (and legally) awaiting its release on your streaming site of choice. An entire new wave of Sherlock fans are about to start squeeing all over again – which is great for those of us who have already seen it, because we have a whole new group of people who are fresh from just having seen it who won't be sick of our ranting and raving yet.
Here's the unfortunate thing about some Sherlock fans though – some of them have no knowledge or experience with the original stories or any other screen adaptations – which is an inexcusable shame, because so much of what makes Sherlock so good comes directly from Sir Arthur Conan Doyle and his incredible imagination, and from Gatiss and Moffat's memories of the Rathbone/Bruce series of Sherlock Holmes movies. There's something to be said for being knowledgeable about the origin and inspiration regarding the creation of such a spectacular adaptation, so here is a list of some of the best both the big and small screen has to offer.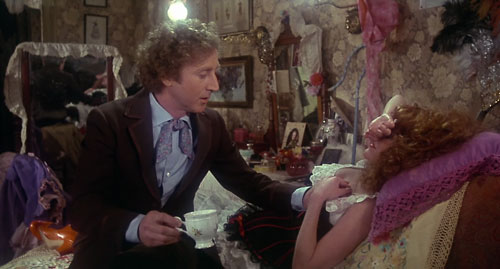 6. The Adventure of Sherlock Holmes' Smarter Brother (1975)
So when Conan Doyle first created the character of Sherlock Holmes, he was nearly called Sigerson. Since then, there have been references scattered throughout Holmesian pastiches and adaptations about this fact, including this fantastic comedy written and directed by Gene Wilder and starring as Sigerson Holmes, Sherlock's younger and "smarter" brother. The movie also stars the likes of Madeline Kahn, Marty Feldman, Dom Deluise, and Leo McKern, which pretty much makes it the perfect cast. It is a delightful, absurd, and adventurous romp of a movie, featuring musical numbers, sword fights, and sibling rivalry. The interesting thing about Gene Wilder's Sigerson, is that while he occasionally bumbles and fumbles his way through the mystery plot, he is actually a pretty intelligent and shrewd guy. Wilder, who always has a smartly mischievous glint in his eyes, communicates this dynamic beautifully. It's really the best fun you can have with a Holmesian parody – except maybe for Without a Clue (1988).
5. The Private Life of Sherlock Holmes (1970)
The fact that this movie is written and directed by Billy Wilder should be enough of a reason to put it on your viewing list. The movie was released at a time when filmmakers and writers were beginning to openly examine the psychology and sexuality of the enigmatic Sherlock Holmes character and his relationship with his colleague and friend Dr. John H. Watson. Wilder would have preferred to openly examine the possibility of Sherlock Holmes as a gay man, but studio objections forced more ambiguity on the subject. As it stands, it is a striking and thought-provoking take on the classic character and his possible origins and proclivities. Not only is it both blazingly funny and deeply moving – often at the same time – but it boasts a lush production and a solid cast.
4. The Seven-Per-Cent Solution (1976)
This is based on the controversial novel by Star Trek writer Nicholas Meyer in which Sherlock Holmes' classic antagonist Moriarty is merely an invention of Holmes' cocaine addled imagination and his "death" at Reichenbach Falls an invention of Watson's in order to cover for Holmes' recovery. In it, Watson (Robert Duvall)  lures Holmes (Nicol Williamson) to Vienna to consult with famed psychoanalyst Sigmund Freud (Alan Arkin). While in recovery, Holmes is drawn into a local mystery that forces him to face his demons and come to terms with his addiction. Both the novel and the movie are well worth a look and ask some interesting questions, making some fascinating inferences regarding Holmes' early history and its relation to his cocaine addiction and mistrust of women.
3. Murder by Decree (1979)
Sherlock Holmes vs. Jack the Ripper – its been done with varying rates of success in novel, film, and video game, and is honestly an unavoidable connection to make, considering the two were contemporaries. This adaptation features the magnificent Christopher Plummer as Sherlock Holmes and the iconic James Mason as Watson. While the pair are far older than either Holmes or Watson should have been during this time period, they display a touching domestic closeness and tender fondness for each other that seems appropriate for their age and the years they've spent together. Think the real life friendship of Ian McKellen and Patrick Stewart and you have something very like these two in this movie. And while Plummer's Holmes isn't quite in keeping with my personal interpretation of the character, he plays him with such gentle dignity, passionate emotion, and deep empathy that he's just beautiful to watch.
2. Basil Rathbone/Nigel Bruce Collection  (1939-1946)
No list of Sherlock Holmes movies is complete without the legendary pairing of Rathbone and Bruce. The first two in this series of fourteen movies (made over seven years and of various qualities) are set in the original Victorian time period. Then they decided to push it forward forty years to their present day so that Sherlock Holmes could fight Nazis and rally spirits during WWII. Rathbone plays Holmes without much depth but with a great deal of intelligence, style, and charm. Perhaps no actor has ever come as close to epitomizing in image the character of Sherlock Holmes as Rathbone has. Nigel Bruce is also a fantastically funny, if overly childish and inept, Watson. The intellect and ability of the two are so disparate that its hard to understand their apparently deep friendship, but their dynamic is winning and contagious regardless of the logic. This series inspired Moffat and Gatiss to imagine what a modern day updated series would be like, and thus Sherlock was born.
1.  Jeremy Brett and David Burke/Edward Hardwicke Granada Series (1984-1994)
I must admit that I wasn't initially a fan of Jeremy Brett's iconic representation of Sherlock Holmes. Brett, being a stage actor by nature, often felt too theatrical and extravagant in his performance for the small screen of television. It always felt like he wanted to burst out of the constricting frame and onto a larger stage. However, having been through almost the entire series of true to book adaptations, I can say that Brett's depth of emotion and instinctual understanding of Holmes is a miracle of acting and that its a gift that these episodes and performances exist. His deep and mutual friendship with the series' two Watson's is clear to see and is one of intelligent equals, not that of an inhuman intellectual giant and a child. The only reason I have not gone on to finish the series after all this time is that the last season is so painful to watch that I cannot yet bring myself to work through it. It was during this last season that Brett found himself in failing health – literally dying as the season progressed – and the effects are plain to see. The adaptation of The Dying Detective – in which Holmes pretends to be on his death bed – is particularly hard to stomach knowing that Brett was so ill during filming. The series is beautifully loyal to the original stories – perhaps the most accurate adaptations as far as canon goes – and it is only a shame that they didn't make it through the entire catalog before Brett's death in 1995.