Just a couple of weeks ago, Legendary CEO Thomas Tull said that they were not in a hurry to make Pacific Rim 2, but would consider it if Guillermo Del Toro came to them with a great idea. With Godzilla's box office after four weeks already closing in on Pacific Rim's entire box office take, it is clear that it has won the monster movie franchise.
That isn't stopping Del Toro, though. Over his career, Del Toro fans have had a number of disappointments, including the conclusion to the Hellboy trilogy possibly shelved forever and the Justice League: Dark movie taking one hit after another in its road to the big screen. There was also the matter of him signing on to make the Hobbit prequels and then leaving, all the while wasting a year of his creative genius.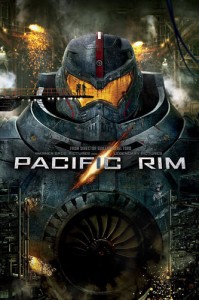 Now, word comes that Guillermo Del Toro and Zak Penn are working on the Pacific Rim 2 script. Del Toro spilled some news while out promoting his upcoming summer TV show The Strain. Del Toro said the studio has not agreed to put his script into production, the two men are working on the script, along with storyline help from Travis Beacham, who co-wrote the first movie.
"I'm working very, very hard with Zak Penn," Del Toro said in a recent interview. "We've been working for a few months now in secret. We found a way to twist it around. Travis Beacham was involved in the storyline and now I'm writing with Zak because Travis has become a TV mogul."
Del Toro also said that he is working on the Pacific Rim 2 script as if he will make the movie, although there is no money in place for it yet. He also said the movie will be a sequel, with both Raleigh Becket (Charlie Hunnam) and Mako Mori (Rinko Kikuchi)  returning. He said he was never interested in a prequel detailing the invasion. He did promise great "spectacle" in the second movie.
Are you excited to see Pacific Rim 2 get made? Let's chat about giant robots vs. giant monsters in the comment section below.