LAIKA is one of the more exciting animation studios in the world, despite only making two movies so far. However, when those two moves are the Neil Gaiman adapted Coraline and the amazing ParaNorman, it is clear that this studio has a very bright future.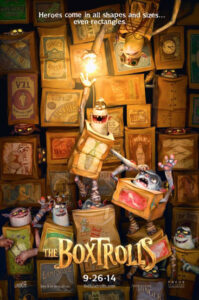 Their next animated movie comes out this year with The Boxtrolls, based on the bestselling Alan Snow novel, Here Be Monsters. While the movie will start its roll-out in September, LAIKA announced that they will premiere their final theatrical Boxtrolls trailer at the Annecy International Animation Film Festival on June 11.
The trailer will premiere before an open-air screening of ParaNorman and director Chris Butler will be at the Annecy International Animation Film Festival to introduce the movie and take part in an audience question and answer session after the film concludes.
The Boxtrolls opens on Sept. 12 in the U.K. and Mexico and slowly rolls out worldwide, hitting France in October. The opening weekend in the U.S. will be Sept. 26, released by Focus Features.
Here is the plot synopsis for LAIKA's The Boxtrolls, and make sure to watch out for the Boxtrolls trailer, which gets its global digital premiere on June 11 as well. To learn more, visit The Boxtrolls official website.
Introducing audiences to a new breed of family – The Boxtrolls, a community of quirky, mischievous creatures who have lovingly raised an orphaned human boy named Eggs (voiced by Isaac Hempstead-Wright) in the amazing cavernous home they've built beneath the streets of Cheesebridge. When the town's villain, Archibald Snatcher (Academy Award® winner Ben Kingsley), comes up with a plot to get rid of the Boxtrolls, Eggs decides to venture above ground, "into the light," where he meets and teams up with fabulously feisty Winnie (Elle Fanning). Together, these soft-boiled detectives uncover the hidden connections in Eggs' past and devise a daring plan to save his unique family.