This week's episode of WWE Monday Night Raw opens with a tribute to the troops in honor of Memorial Day. After that, Triple H and Stephanie McMahon came out to the ring, all smiles. Stephanie said that the fans love Daniel Bryan but it was proven that he can't physically be the world champion. She asked for Bryan to do the right thing and surrender the WWE World Heavyweight Championship.
Triple H then warns The Shield not to show up at ringside. Stephanie McMahon then calls out Brad Maddox. Last week, Maddox allowed The Shield to be at ringside as official commentators, which hurt Evolution's chance at cheating to beat up Seth Rollins. Maddox said they forced him to, so Stephanie McMahon said he felt he didn't have a choice so now they don't have a choice and Kane came out. Triple H sucker punched Maddox and Stephanie told Kane to finish him. Kane hit the choke slam and a tombstone and then Stephanie McMahon fired him.
Rob Van Dam vs. Cesaro
Back from commercial and Paul Heyman is with the ring with Cesaro. They didn't even get their entrance shown. Rob Van Dam is out next for the match. This Sunday, RVD fights Bad News Barrett for the IC title while Cesaro gets Sheamus for the U.S. title. Bad News Barrett is out and does his Bad News schtic which helps Cesaro sucker punch RVD to start the match. Barrett joins the commentary. Barrett tried to interfere once but RVD hit a superkick on him. Later, RVD was going for a frog star, but Barrett distracted him long enough for Cesaro to hit the German suplex for the win. After the match, Sheamus ran in and hit a Brogue Kick on Cesaro.
Winner: Cesaro (** ½)
Summer Rae vs. Eva Marie
Back from commercial and Eva Marie and Nikki Bella are in the ring. Last week, Summer Rae worked as a referee and refused to count when Eva Marie went for a pin and then did a fast count to cost Eva Marie the match. It looks like Summer Rae is feuding with both Eva Marie and Layla in two separate feuds. Summer Rae was just beating the hell out of Eva Marie until Fandango's music started. Fandango and Layla started making out and that gave Eva Marie the chance to steal the win.
Winner: Eva Marie (1/2 *)
Backstage, Randy Orton and Batista are planning something. Cody Rhodes and Goldust came out and issued a challenge to any tag team on the roster. Orton says Triple H doesn't have time for them and Rhodes reminded Orton that they beat The Shield last year and Evolution can't beat The Shield. Rhodes calls Batista "Skinny Jeans Sellout" and Orton "RK-Blows" as well as Triple H's lapdogs. Triple H comes in and books the match, but said it won't just be a regular match.
Drew McIntyre vs. El Torito
The burial of 3MB continues as the individual members of the group continue to battle the midget wrestler El Torito. McIntyre used to be an actual top prospect. Jerry Lawler name-dropped King Kong Bundy. When McIntyre tried to slam El Torito from the turnbuckle, Los Matadores interfered but 3MB stopped them. However, it distracted McIntyre and then Torito kicked him, with McIntyre dropping and hitting his head on the ring post. Torito pinned him. After the match, 3MB tried to attack Torito and Hornswoggle went for Torito's mask. Torito escaped but Hornswoggle ripped his tail off before he could leave. Backstage after the match, the trainer was trying to help El Torito after he lost his tail.
Winner: El Torito (*)
Bray Wyatt is here. The lights are out and Bray is in the ring singing. Wyatt said the way to get to John Cena is through his lackies. He calls in Jerry Lawler to talk but Lawler refuses so Wyatt sends Erick Rowan out to get him. He tells JBL not to move or he is next. He then calls JBL a coward. JBL gets up to head in but has his head taken off by a Luke Harper clothesline. Lawler finally gets up to go in to the ring.
They put a chair in the ring and he has Lawler sit down. He said that Lawler has helped Cena attain his goals of being famous through his commentary and has destroyed millions of lives in Cena's name. Cena runs in for the save but Harper and Rowan beat him down. Wyatt said that what happens next is Cena's fault and set up Lawler for the Sister Abigail's Kiss. The Usos made the save and Lawler escaped. Cena said that Bray Wyatt is evil, he believes in what he does and he has to stop Bray Wyatt now.
Rusev vs. Zack Ryder
Zack Ryder came to the ring carrying the American flag and no one seemed to care. Ryder got ready to cut a promo for Memorial Day but Lana's music hit. She brought out Rusev, who then destroyed Ryder quickly. Big E ran out after the match and actually knocked Rusev from the ring. Big E waved the flag after the match.
Winner: Rusev (*)
Evolution vs. Cody Rhodes and Goldust
Evolution dominated almost the entire match, which was actually pretty good. It went quite a while and then Orton hit two RKOs onto Cody Rhodes to pin him. After that, it was announced that what Triple H meant by the match being different was that it was an Elimination match. Cody had to leave and now it is a no holds barred handicap match with Orton and Batista vs. Goldust. The two men beat the hell out of Goldust. Orton hit the RKO and Batista hit the Batista Bomb for the pin fall win.
Winners: Evolution (** ½)
Bo Dallas vs. Sin Cara
BOLIEVE! Just like on Smackdown, Bo Dallas made his debut on Raw by facing the fake Sin Cara. He gave an inspirational speech before the match. Dallas hit one move and ran out to celebrate with the fans in a funny moment. The Sin Cara hit him outside the ring and mocked Dallas. That was funny. He won with the Bo-Dog. After the match, he did a victory lap, said if you just give it your all, you are a winner, and then hugged Sin Cara and said "you did good." This guy is fantastic.
Winner: Bo Dallas (** ½)
Stephanie McMahon came to the ring next. McMahon said that she and Triple H needed to figure out who the next champion will be and needs Daniel Bryan to do the right thing. Daniel Bryan comes out and the fans are loud. Stephanie McMahon says she could strip him of the title BUT that would make him a martyr. She said that Bryan knows that the people need an active champion.
Bryan said winning the title at Wrestlemania was a payoff to years of sacrifice, but his injury is worse than originally thought. This was thanks to Kane, who he knows Stephanie is in partnership with. Bryan said there is no shame in handing the titles over and coming back to win them. But he said this isn't about him, it is about Stephanie because he beat Triple H to win his title. He said NO. She said this was his ego talking
Stephanie showed the video of Brie Bella pushing her two weeks ago. She said no one touches the boss and she is giving Daniel Bryan one more chance to do the right thing at WWE Payback. If he doesn't give up his titles then she will fire Brie Bella. Of course, this came on the same show where Triple H (the boss) sucker punched an employee, so that makes no sense.
Alicia Fox vs. Emma
Alicia Fox gets a title match on Sunday at WWE Payback against Paige. Emma started to get the advantage and Fox said she was leaving because Emma was too rough. It was a trap as Emma went after her and Fox hit a big boot outside the ring. Alicia Fox started toying with Emma and just kept slapping her. Emma slapped her back, Fox missed a big boot and Emma rolled her up for the pin. Fox beat her up after the match. Then she went nuts again. She beat up a guy a ringside attendant, ripped his shirt off, gave him a wedgie and poured soda all over him. She also kept beating the ring bell, saying she isn't a loser.
Winner: Emma (* ½)
Damien Sandow vs. Adam Rose
Damien Sandow came out as Damien Crockett (Davy Crockett), another effort to embarrass Sandow it looks like. The Rosebuds are out next and this is Adam Rose's in-ring WWE Monday Night Raw debut. Rose was dominating the match when Jack Swagger's music started. Swagger and Zeb Colter came out with one of Rose's people – a lemon. It distracted Rose long enough for Sandow to come up from behind, however Rose saw him coming and hit the reverse DDT for the win. After the match, Swagger attacked but Rose rebounded and started pounding away on Swagger.
Winner: Adam Rose (*)
Sheamus vs. Alberto Del Rio
This match was decent, but the ring psychology was strange. Alberto Del Rio had Sheamus reeling and Sheamus sold a concussion. He couldn't pull of a Brogue kick, so Del Rio hit the concussion kick but couldn't get the pin. Sheamus then instinctively hit the Brogue kick for the win. It made Del Rio look really bad. After the match, Paul Heyman was in the box at ringside and announced that Sheamus won, but Brock Lesnar ended the Undertaker's streak. After that, Sheamus stared down Heyman and Cesaro kicked him from behind in the head. Cesaro then blasted Sheamus with forearms to the head, making the concussion angle now make sense.
Winner: Sheamus (* ½)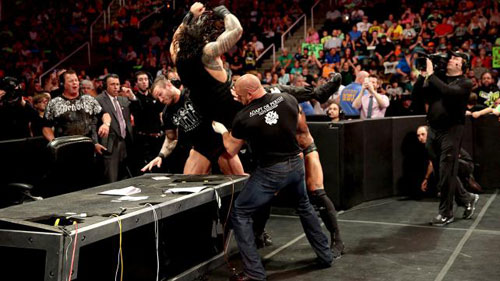 The contract signing is next between The Shield and Evolution. This is the last night that The Shield and Evolution will be in the ring together. Whoever loses the match at WWE Payback will have to leave WWE Monday Night Raw forever. The Shield shows up first and tosses the chairs and table from the ring. After that, Evolution comes out. Triple H said if they sign the deal, they will be killing The Shield and going back to obscurity. The Shield signs on the line. Evolution signs the contract. Triple H said they will be a statistic and Roman Reigns tells him to shut up, get in the ring and fight. Evolution did. The Shield got the advantage until Triple H brought in the sledgehammer and took out all three with it. They finished things off my hitting the triple powerbomb on Roman Reigns through the ringside table.