Welcome to a special Blood Thirsty Thursday edition of Fiendish Flicks, my fabulous fright fiends! Pop the popcorn and pull up a seat, in honor of today's VOD release of Lucky McKee's latest Fiendish Flick  All Cheerleaders Die, we are taking a look at his graphic content in all of it's gory detail.
All Cheerleaders Die is a supernatural/grindhouse/cheer leading zombie/revenge flick that borders on surreal, and goes over the edge of hysterical. Starring Caitlin Stasey (Reign) as a high school student out for revenge. And what's the best way to exact revenge? Become a cheerleader of course! You can learn a lot from a movie like this, like how to survive high school. Step one being, befriend the wiccan chick. Actually, all other steps would be irrelevant, just make friends, seduce, whatever you have to do, the girl that knows her hoodoo and you're golden. Written and Directed by Lucky McKee & Chris Sivertson, All Cheerleaders Die is a remake of their first flick made back in 2001. I wasn't able to get my grubby little hands on a copy of the original for comparison, but the newest had me in bloody stitches. The only part that didn't quite gel was in the mishmash of musical accompaniment. Though the track by Grand ol' Party is pretty much perfection. All Cheerleaders is cheesy good fun. Who doesn't love good campy fictional high school carnage and a little goth girl vindication? Okay, so the goth girl vindication part maybe just a personal point.
A Master of Horror, but especially the revenge flick, Lucky McKee first hit the horror radar with his 2002 modern Frankenstein movie  May. May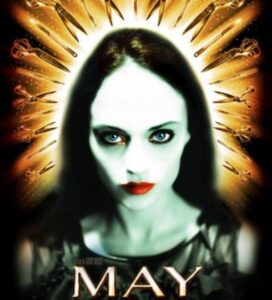 starred his leading lady favorite, Angela Bettis, as the lazy eyed, socially inept girl, who has a little trouble making friends. When attempts to connect fail, she decides to 'make' friends instead. Quirky doesn't quite cover the character of May, with handmade patchwork wardrobe, a touch of chiraptophilia, a head full of veterinary mishaps,and a creepy doll as a best friend. Despite, or maybe because of her quirks, I couldn't help but love the girl. So she confuses a first kiss with a first bite, it could happen to anyone, right?
There are so many awesome elements to this film, vivid visuals, dark humor, and one of my favorite bits of cinema symbolism, as the glass cracks, so does her sanity (well, what there was of it anyway), until it shatters completely. May nails it on the head with a single line, "So many pretty parts, no pretty wholes." Many awesome parts make up this movie, but she's right, it isn't pretty. Gory? Yes. High on rewatch value? Yes. A Fiendish Flick? Absolutely! But still, not pretty.
A contribution to the horror anthology series Masters of Horror, Sick Girl was next in the line of McKee's movie mayhem. Between horror and black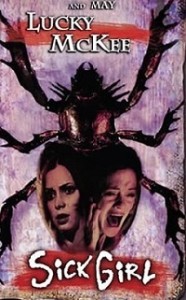 comedy, Sick Girl was one of the most creative and funniest of the MoH franchise, and one of the most interesting revenge flicks I have had the horror of seeing. Angela Bettis stars again as Ida Teeter, a reserved, yet love struck entomologist. Ida is sent a mysterious package from Faculty Head Professor Malcolm Wolf, containing a previously unseen species of insect. An aggressive little beasty, that doesn't stay boxed for long, escaping to wreak havoc in poor Ida's humble home. Meanwhile our lonely hearted heroine takes a leap, after a long line of dud dates that weren't keen on her crawling critters. She asks out Misty Falls (Erin Brown, aka Misty Mundae); the fine young fairy fanatic that frequents the lobby of  the McNaughton Museum of Natural History where Ida works. Misty and Ida are about as cute as 2 shy girls in love can be, diving into instant cohabitation, after it's established that Misty is fine with Ida's many legged pets.
Together, they search
high and low for the bloodthirsty and brutal missing bug, but the real fun begins when the bug finds Ida's bashful beauty. When Misty's behavior starts to change, becoming a belligerent bully, Ida starts to wonder if they moved too quickly, and if, "Misty got bit." Sick Girl is a killer creature feature, mixing up the perfect formula of humor and horror, and a personal favorite for freaking out friends.
2006 McKee also released the much more subtle, supernatural horror flick, The Woods. Starring Agnes Bruckner as
Heather Fasulo, a young girl sent to Falburn Academy, after a little adolescent arson. Delivered to the boarding school by her inattentive Father Joe (played by B-movie legend Bruce Campbell), who drops her into the hands of the stern Head Mistress Ms. Traverse, played by Patricia Clarkson. Between her troubled past and being picked on by the popular girls, Heather has a hard time getting settled into her new role as a student on the straight and narrow. But being bullied by the school bitch becomes the least of her worries when girls start to disappear. There is something supernatural and sinister in the woods surrounding the school. The Woods is a fantastic homage to Dario Argento's Suspiria, with a somber tone and haunting visual aesthetic. Being nothing like Sick Girl, The Woods may not appeal to the same audience. Though being the well rounded horror fanatic I am, I really enjoyed this flick.
The next big release by Lucky McKee was The Woman. McKee and Jack Ketchum co-wrote this controversial movie, that caused a commotion on the film fest circuit when a few movie goers ran from the theater, and one irate Sundance attendee threw a (well recorded) fit, calling the flick depraved and criminal, declaring that the film should be burned. Half the
community says The Woman glorifies violence against women and the the other thinks it's a feminist triumph, but both sides agree that the movie is disturbing. The film is a follow-up to Jack Ketchum's 2009 movie Offspring, about a cannibalistic clan that dwelled on the north east coast. The Woman covers the capture of the last remaining member of this clan, a feral female played by Pollyanna McIntosh. Taken prisoner by country Lawyer and abusive creep Chris Cleek (Sean Bridgers), who takes her home and locks her up in an all together brutal attempt to 'civilize' her, in the least civilized manner possible. Making the effort a family affair, he forces his wife and children to take on her bathing, feeding and occasional raping. Angela Bettis appears in this film too as the singularly sane, but scared wife, Belle Cleek.
Where the woman herself evokes a feeling of abject horror at the situation, Belle is the character that draws out your sympathy and drives home what it's like to live with a monster. Where Offspring was nearly un-watchable, with poor production values, ridiculous
costuming and a raw script in need of editing, The Woman astounds. Unsettling and lurid scenes of torture which we expect from Ketchum make this movie truly hard to watch, but the added writing and direction by Lucky McKee make it worth watching.
There hasn't been a film in Lucky McKee's arsenal yet that I didn't like. As varied as they may be, his movies have style. Whether it's campy or just down right creepy, every one of his  flicks has definitely been fiendish, putting him in my top 5 list of favorite horror Directors. Check out Lucky's newest, All Cheerleaders Die, available today on video on demand, and in theaters June 13th.
That concludes today's very special episode of Fiendish Flicks, tune in tomorrow, horror honeys, for your regularly scheduled programming. -Ruby.