What we know:
Miriam Lass is rescued by Jack and the BAU. Jack tries to get Miriam to give a description of the killer. Miriam says that her memory is foggy. The only thing that Miriam remembers is a shadow of her captor and his voice faintly. Alana is interviewing Hannibal with Jack and Miriam watching. Jack ask Miriam is this the man hoe took you, Miriam tells Jack that this is not the right person.  Will is finale released from the mental institution. Dr. Chilton feels that Hannibal may come after him. Will advice is to tell Jack everything.
Jack takes Will to the house where Miriam was found and where blood and other items used to kill Beverly. Will feels that the killer will be harder to catch a 2nd time. Will also states that all the evidence was left in order to steer the investigation away from the real Ripper. Will feels that Miriam was left there for Jack to find. The BAU runs the evidence of everything in the house. The team finds a single partial print that is Hannibal's and notices that the drug used on Miriam is one that Dr. Chilton uses. Jack order them to bring them both in.
Chilton gets home and finds the body of Abel on a table. Chilton tries to run out of the house where he trips and Hannibal meets him in a plastic suit. He holds a rag with chloroform up to Chilton and tells him the first thing he will think to do when he wakes up is to run. Chilton wakes up to find dead FBI agents and packs his bags and goes to Will's house. While there Will calls Jack and Chilton runs off into the woods. Jack finally catches Chilton and arrested him. In an interrogation room, Miriam realizes that Chilton is the once that abducted her. Miriam grabs Jack's gun and shoot Chilton in the head.
What will happen next?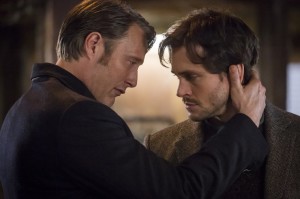 Next weeks episode is titled "Su-zakana"
When a young woman's body is discovered inside of a horse, Hannibal (Mads Mikkelsen) suggests to Jack (Laurence Fishburne) that Will (Hugh Dancy) be brought in to help crack this peculiar case.
Will has seemingly cast aside his suspicions of Hannibal, resuming their doctor-patient relationship, but Alana (Caroline Dhavernas) remains skeptical regarding Will's true intentions and worries that Hannibal may still be in danger.
The FBI questions the man they suspect to be the killer in their case, but lack of evidence forces them to let him go. Will and Hannibal race to guard the safety of a witness they believe is in jeopardy, but it might be Will's own judgment that is in peril."
Pontificating:
If Blooms name wasn't like the 4rd or 5th name in the credits. I would say that she is getting canned, maybe I just want her to get canned because she annoys me. I understand she was a pupil of Hannibal's and now lover of him but no one should be this dumb. Even if you feel he is innocent being as close to cases like this she should know that EVERYONE has the possibility of being a suspect especially in the manner of he killing resembling each other.
As far renewals go, Once again Hannibal will be a tough cookie to guess at. The show is good, slightly above "cult" good but doesn't have the solid rating to make it an instant success, that bottled with the fact it was moved from a Thursday (prime real estate) to Friday night (Married couples and women with cats territory). The main reason it was renewed last year was because the show was so cheap to produce. This could get it to another renewal, but it's not something us Fannibals should have to hang our hats on.
Now on with the Food!
There are no real food picture in this episode so I will leave you with a pic of Hannibal's refrigerator…