All the WWE superstars, including Vince McMahon, are on the stage for the tribute to The Ultimate Warrior. Then they play attribute video for Warrior, with comments by Hulk Hogan, Triple H and Stephanie McMahon. They also included his final promo from WWE Monday Night Raw last week and from his WWE Hall of Fame speech (his comments about his daughters). They then gave him the 10 bell salute.
They will honor the Ultimate Warrior in between matches tonight. The first match is the start of a new eight man tournament to determine the number one contender to Big E's "prestigious" Intercontinental title. The opening match of the tournament is Rob Van Dam vs. Alberto Del Rio. Interesting tournament match since these men feuded for the world title before Van Dam took his break from the WWE last year. Van Dam won the match, although Del Rio dominated much of the match. He takes on the winner of Mark Henry vs. Cesaro.
Triple H and Stephanie McMahon are meeting with Randy Orton and Batista backstage. He said The Shield is a lot like Evolution used to be. He asked for Batista and Orton to help him deal with The Shield, because if they aren't taken out then The Shield won't let them near the titles. Orton and Batista refused and said Triple H is on his own.
Summerslam 1988: Ultimate Warrior squashes Honky Tonk Man to win the Intercontinental title.
The next match was a tag team match pitting Rybaxel against Goldust and Cody Rhodes. It looks like they are pushing Ryback and Curtis Axel again as Ryback got the pinfall win over Cody Rhodes.
Next up is a Bo Dallas promo.
The new WWE Divas Champion Paige is out next. Her opponent is Alicia Fox. Paige won her first official match with a nice submission move.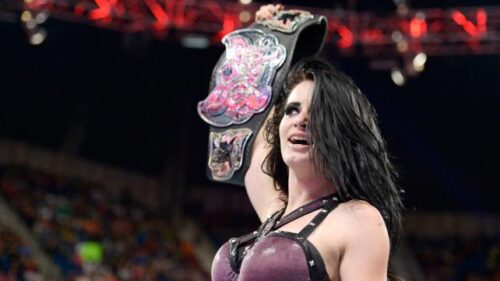 Up next is a rematch from last week with the tag team champion Usos taking on Randy Orton and Batista. This was a rematch challenge made by the tag champs, who were destroyed by the former Evolution members last week. Interestingly, The Usos kind of dominated the match. Randy Orton finally lost it and threw one of the Usos from the ring and started throwing him around ringside until The Shield showed up and beat down Orton and then Roman Reigns hit the Superman punch on Batista. After the match, Orton and Batista were walking backstage and Triple H saw then and said "told you."
Wrestlemania VI: Ultimate Warrior beats Hulk Hogan for the WWE Championship.
Paul Heyman came out next. He started repeating that Brock Lesnar conquered the stream over and over. Paul Heyman then showed photographs and told the fans that Undertaker was all alone after his loss at "Wrestlemania 30." He then calls out "The King of Swing" Cesaro, and his talk before Cesaro comes out made fewer fans cheer Cesaro. The strange thing is that Cesaro does not have entrance music. He is now going to face Mark Henry in the first round of the tournament. The match was slow and the fans were never in it, but Cesaro won with an impressive Neutralizer. There was still no music for Cesaro after the win.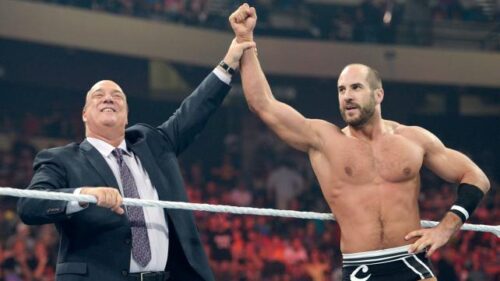 Lana is out next to introduce Alexander Rusev. His opponent here is Xavier Woods, a rematch from NXT. Rusev came out on NXT: Arrival and destroyed Woods before Woods was supposed to fight Tyler Breeze. Rusev squashed Woods and beat him with his camel clutch move. He wouldn't let go so R-Truth ran in for the save. When R-Truth went to check on Woods, Rusev ran across and kicked him in the head.
Summerslam 1990: Ultimate Warrior vs. Rick Rude in a steel cage for the WWE Championship
Jack Swagger and Sheamus fought in the next match in the tournament. This was actually a pretty good match and Swagger looked more aggressive than he has been in a long time. The end came when Swagger charged Sheamus, who lifted his foot for the Brogue Kick and the win. He will face the winner of Dolph Ziggler vs. Bad News Barrett. Sheamus sold the ankle injury after the match when he was leaving.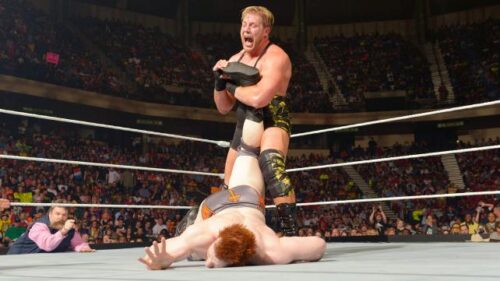 Up next is an Adam Rose promo.
Damien Sandow is in the ring. He has a mic and said that he is the most deserving person in the WWE. Big Show's music started and Big Show came out. Sandow said he would not be silenced and kept talking during Big Show's entrance. He talks about his Money in the Bank win and almost beating John Cena and said he has a lot to get off his chest. He asks why people cheer for Big Show just because he is a giant who shakes hands, but he deserves it and has earned it. He asked Big Show what he thought but Show said nothing. Sandow said that you look at him and you see the future, you see a future champion and you see greatness. Big Show knocks out Sandow and walks out.
The Wyatt Family is out next. Bray Wyatt said he has never lied to the fans but John Cena has made a career out of lying to all the fans. Wyatt promised the fans that he won't let Cena continue to lie and will push him over the edge. He said that he doesn't want to slay the monster, he just wants it to come out and play and he calls out John Cena.
Cena comes out and says he wants to have some fun ("why so serious"). He said the monster in him doesn't exist. He mocks the Wyatt Family. He said that Rowan has jokes for days and Harper would streak through the quad. He then said that Wyatt is brave for wearing white pants with a Hawaiian shirt and it secretly a lady's man. He throws out "roll tide" for a cheap pop. Cena then shows a photo on the screen of "Sister Abigail," which is Wyatt in a scarf. He then showed a photo of Wyatt's mama, which is Bray Wyatt in a porch swing. Next is a "new baby girl" born into The Wyatt Family, which is a photo of Rowan's face on a baby's body.
Bray Wyatt said that all Cena can do when he gets nervous is makes jokes. Cena got serious and said from Wrestlemania 30, when Cena gets serious, Bray Wyatt gets beat. Cena said that he beat Wyatt once and what will happen if he loses to Cena again? Cena made a fat joke. John Cena challenges Bray Wyatt to a steel cage match at Extreme Rules. Wyatt said he would love that and then got a portion of the crowd to sing "He's Got the Whole World in His Hands" with him, although it wasn't as loud as it has been.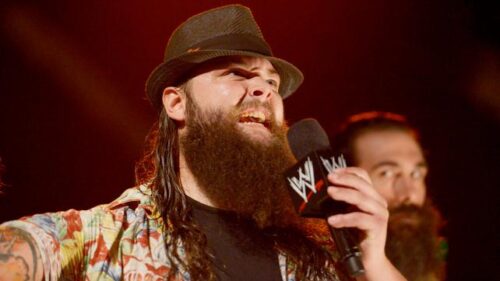 Fandango and his new dance partner Layla came out to face off with Santino and Emma. Fandango dumped Summer Rae last week. The change worked as Layla pinned Emma after pulling her off the turnbuckle.
Stephanie McMahon is ripping into Kane in the dressing room. She called him pathetic. She said he used to make children cry and she asked what happened to Kane. He got his mask back and said he was going to eviscerate Daniel Bryan and send him to the depths of hell as McMahon smiled.
Next up was The Ultimate Warrior's promo from last week.
The tournament continues with the final first round match as Dolph Ziggler takes on Bad News Barrett. Ziggler came to the ring in an Ultimate Warrior shirt. This match was the best of the first round matches so far. It actually had a commercial break and both guys looked good. The fans were chanting "this is awesome" in a match where both men kicked out of sure fire finishing moves. The end came when Ziggler ducked a Bull Hammer but then turned into a second one. Barrett wins and will face Sheamus in the next round.
Up next is a masked Kane video promo.
The Shield is out next for the main event. It will be a match where The Shield do not know who they will fight. Alberto Del Rio came out first. Then, Jack Swagger came out. Up next was Fandango. 3MB, Titus O'Neill, Rybaxel, Alexander Rusev and Bad News Barrett all came out next, making this a three-on-11 match. Looks like it is actual tag team rules. Fans started chanting "Hounds of Justice."
The Shield started out by dominating Heath Slater until Seth Rollins got tossed into the villain's corner. They dominated Rollins, but when he was thrown out and Ryback went after him, Roman Reigns ran around and hit a spear. All the bad guys jumped him and they were disqualified. After the match The Shield tried to stand up to them but were beaten down. Then EVOLUTION'S music started and Triple H, Randy Orton and Batista came out together.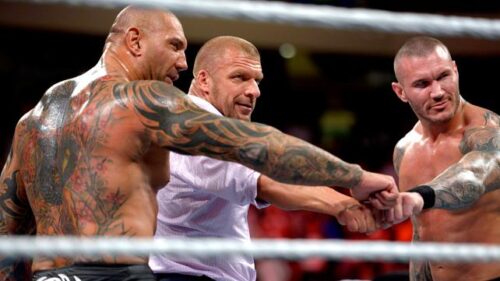 Triple H told everyone to leave them alone with The Shield.  They went after Seth Rollins first. Roman Reigns tried to make the save but Randy Orton dropped him with the RKO. Batista Bomb onto Roman Reigns. RKO to Seth Rollins. Batista hit the Batista Bomb onto Seth Rollins despite Dean Ambrose trying to save him. Then Orton and Batista hit the Batista Bomb into the RKO onto Dean Ambrose. Triple H then taunted Roman Reigns. Triple H then said "Believe in Evolution" and hit Reigns with the Pedigree.