Netflix is once again proving themselves to be the leader in New TV. With the success of Lilyhammer, and House of Cards, and of course to helping Arrested Development get that last kick at the can they so rightly deserve, get ready to set aside some pepperoni, a rum and coke, and that bag of weed you've been hiding in the back of your freezer, you now have a reason to call in sick for a week.
The Trailer Park Boys is coming back for Season 8 on the one true channel, Netflix. Sure in Canada, we have had our fun with the likes of Ricky, Julien, and Bubbles, but now the U.K., Ireland, Netherlands, the Nordics, and Latin America can enjoy the exploits of these hapless, crooks looking to make enough money so Ricky can stop working for Julien and take care of his daughter, Julien can enjoy his always at hand Rum and Coke, and Bubbles can finally move in to a 2 room shed with all his Kitties.
Already spanning 7 seasons, 2 movies, and 2 made for TV films, The Trailer Park Boys are Canada's answer to "give us something better than Justin Bieber". Well you got it sister! Each film and season starting with the boys reluctantly coming home from jail to fight with Mister Lahey, and Randy as to who will run Sunnyvale Trailer Court, only to have the boys back in jail at seasons end. And so it goes. And so it goes.
With guest stars like Sebastian Bach from the band Skid Row, Robert Downey of The Tragically Hip, and Alex Lifeson from the band RUSH, you are all over the rock n' roll map. Also look for a young Ellen Page in Season 2 as Mister Lahey's daughter. Some refined viewers may recognize John Dunsworth who plays Dave Teagues in SyFy's very very very very very loosely based on a Stephen King novel, Haven.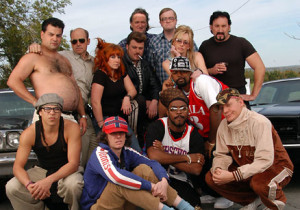 It's a veritable Cornucopia of white trash as far as the eye can see. One might even consider it Falstaff but with less sex. This show is so huge that when I was working on the sequel to 300 in Bulgaria there was a beer sold there by lookalikes of the boys themselves. Consider the series, Jerry Springer but funny on purpose, and more fucked up. I mean, where else are you going to witness a model train track being built in the bush crossing the Canadian-U.S. border that is meant to truck marijuana with, or a wanna-be white rapper faking going to jail to add to his street cred, but only hiding under his Grandmother's house sneaking out for food late at night.
Yup, looks like 2014 is going to be the year of the Boys. What with a new Season, and a new movie, Trailer Park Boys: Don't Legalize it coming out April 18th. 2 days before 4/20. Enjoy!
Follow the link to the Movie trailer  Trailer Park Boys: Don't Legalize It
James C