Fiendish Flicks Friday has come again and this week I bring you 6 stories more silly than scary. Tales that border the line of Horror and Comedy, with a side of camp for nights that you want more freaky fun than actual fright. With no further ado….
6 Best Horror Comedies
6) Highway to Hell (1991)
Running off to elope, young lovers Charlie Sykes (Rob Lowe) and Rachel Clark (Kristy Swanson) take a detour straight to Hell in this kooky comedy. Looking to avoid the main roads for fear of parental intervention, the couple takes a wrong turn on Route 666, where Hell Cop awaits to drag Rachel to the underworld to become a bride of Beelzebub. Charlie must chase after to rescue his Hell bound honey before time runs out and he loses her forever. Over the top as they come, this fiendishly funny flick comes with cameos from half of the (Ben) Stiller family. Highway to Hell: "Where the toll is your soul", hits the nail on the head when the worst punishment is never getting near a good cup of coffee. As a girl from Arizona where this flick was filmed, I can't help but hold this cheese fest close to my dark little heart.
5) House (1986)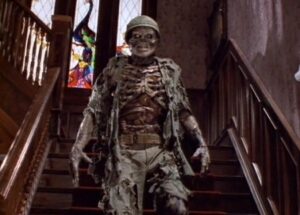 Roger Cobb, a Vietnam Vet played by William Katt, moves into the house of his deceased Aunt, where plans to work on his latest novel go awry when the neighbor's child disappears inside the haunted abode. With the help of his neighbor Harold (George Wendt), he must find the missing boy before his Mother returns, as well as face his own demons hidden with in the walls. With a tag line like 'Ding Dong, You're Dead', how can you go wrong? Rife with campy practical effects, this 80's classic is horrifically hilarious.
4) The Frighteners (1996)
From Writer/Director Peter Jackson comes the story of Frank Bannister, con man and psychic. Frank finds the ability to communicate with the dead after a tragic car crash that claims the life of his wife. He's content to use his talents to scam the naive, using their dearly departed, until he meets the charming Dr. Lucy Lynskey (Trini Alvarado). Bannister, played by Michael J. Fox, sees glowing numbers on her forehead and the heads of others that lead him to the ghost of a psychotic killer and his serial killer sweetie, who are hell bent on upping their death count even in the after life. Fantastically cast, Frighteners is full of fun and one of my favorite films from Michael J. Fox.
3) Death Becomes Her (1992)
Meryl Streep & Goldie Hawn play Madeline Ashton and Helen Sharp, best friends and worst enemies. After Classy and reserved Helen goes off the deep end when her fiance Ernest Menville, played by Bruce Willis, leaves her for her flashy star of a best friend, Madeline, she seeks revenge and a potion for eternal youth and beauty from the mysterious Lisle Von Rhuman (Isabella Rossellini). While Helen stews in her juices, Madeline becomes a sour, aged, fading star who regrets her marriage to the once renowned Plastic Surgeon, now Mortician and alcoholic Ernest. Seeing post potion Helen, Madeline seeks the elixer for herself, with a warning from Lisle to take care of her body for she will be in it forever. Though with names like 'Mad' and 'Hel', and years of pent up fury, can you expect the fur not to fly? I love Bruce Willis in the role of the brow beaten, lush of a Husband caught between these two divas, with hilarious results. Throwing it on whenever I need a diabolical diversion, this movie is a staple of my collection.
2) Beetlejuice (1988)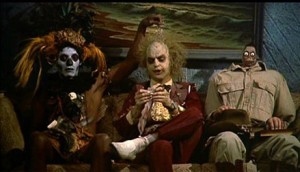 When the provincial Maitlands die, they find not only the Handbook for the Recently Deceased, but an afterlife stuck in limbo with the Deetz family. The avant garde artist Delia Deetz (played by Catherine O'Hare), Her Husband Charles (Jeffrey Jones) and their Daughter Lydia, played by a young Winona Ryder, a gothic preteen with a flare for angst. Barbara and Adam Maitland (Geena Davis & Alec Baldwin) enlist the help of Betelgeuse, the self proclaimed Bio-Exorcist who is played by an exuberantly disgusting Michael Keaton, to help scare away their living tenants. How can you have a list of creepy comedies with out the work of Tim Burton? One of the few endeavors of his own creation, instead of borrowed stories like Alice in Wonderland or Sweeney Todd, this flick is one of my all time favorites. Beetlejuice delivers a bevy of wicked and wacky characters. This classic I find myself quoting on a regular basis, and bears some of the most recognizable scenes of any on this list. "This is my art, and it is dangerous! Do you think I want to die like this?! "
1) Army of Darkness (1992)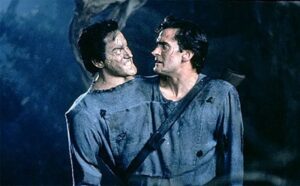 What other movie could I pick for #1, but Army of Darkness? Ash, S-mart employee is thrown into the past to fight armies of the undead, accidentally released by mispronunciation of the Necronomicon, and woo helpless maidens, with wicked morning after face. Bruce Campbell, in addition to being the 'Prince of Thieves', has to be the all time King of Camp. Directed by Sam Raimi, Army of Darkness is a must own by any self respecting horror aficionado. "Hail to the king, baby."
Well, that completes this week's Fiendish Flicks picks, until next time horror fans. -Ruby