Aidan Green Top 5 Movies of 2013
Ahoy, renegades! Aidan here.
2013 was a pretty great year of movies, but I feel like I say that about every year. Which isn't a bad thing. With gems like Grown Ups 2 and Resident Evil 26 out in cinemas, we're undoubtedly living in a Golden Age of Hollywood.
But, yeah. No. You read the title. So let's get started.
#5. Pacific Rim
Every geek knew how this would turn out – Guillermo Del Toro's Pacific Rim was perhaps Summer 2013′s most underappreciated gem, a blazingly fun film that made us geeks warm and fuzzy inside and went otherwise unsupported by the popcorn-munching drones that fill most theaters. Hopefully its overseas grosses satisfy the studio's pocketbook so that we can return to Del Toro's earnest, colorful universe, and soon – it'd be another welcome detour from the snarkiness and ironic self-importance that permeate most modern summer blockbusters.
Kaiju dead ahead!
#4. American Hustle
Receiving the majority of critical drool this year is American Hustle from director David O. Russell, hot on a streak of critical hits that re-use the likes of Christian Bale, Jennifer Lawrence, and Bradley Cooper. Heavily evocative of Scorsese's best, American Hustle is a terrifically retro yellow-brown throwback to 1970s America, in which Christian Bale and his hairpiece run rackets to survive until being intercepted by the feds and forced into undercover sting operations. Great performances from all and stylish production design bolster this flick into the stratosphere.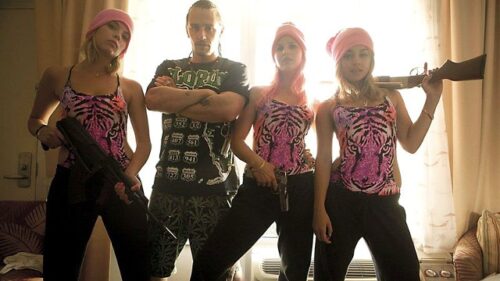 #3. Spring Breakers
Harmony Korine's Spring Breakers is a brilliant social commentary on vicious debauchery's proximity to violent crime. The movie knows what it is, and it's a transcendent masterpiece of neon-lit satire.
This isn't a traditional awards movie, nor did it try to be. And I hope it's continually discovered as an underground experiment of light and sound, a firebomb of hilarious anger from a master filmmaker. It's hard to talk about this thing – it's unlike any movie you're likely to have seen in awhile.
You can read my full Spring Breakers review here.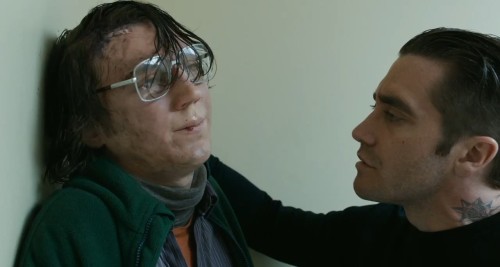 #2. Prisoners
I walked into Prisoners with cautious optimism – my interest had been peaked by the trailer attached to this summer's The Wolverine, but the flick looked like it could succumb to Taken-style schlock just as easily as it could go the way of Se7en and cement itself in crime thriller history. And boy, did we get a best-case-scenario. Denis Villeneuve's Prisoners is the best film of its kind since the aforementioned Se7en; it's a masterful symbiosis of raw, emotional intensity and carefully calculated subtlety. It brandishes the year's best cinematography and musical score as well as delivering us one of Hollywood's coolest detectives ever in Jake Gyllenhaal's Detective Loki. While Hugh Jackman's explosive performance is certainly a career-best and steals the show, I cannot overstate how f**king cool Detective Loki is. If you haven't seen Prisoners yet, do so. It's a dark, twisted, beautiful ride. And not for the faint of heart.
You can read my full Prisoners review here.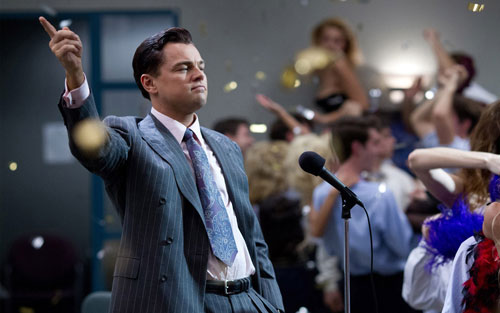 #1. The Wolf of Wall Street
Holy mother of god.
It was three hours and I saw it two days in a row.
The Wolf of Wall Street shows good ol' Marty not only maintaining a quality presence in Hollywood, but getting better! What a movie. Even more fast-paced and visceral than my personal Scorsese favorite Goodfellas, The Wolf of Wall Street is a refreshingly unrelenting dose of kickass filmmaking in a world overrun by politically correct bullshit. I felt at home watching this thing – I got lost in its world, swept along by DiCaprio's fiery monologue and gutbusted by Jonah Hill's hilariously twisted performance as Donny, the right-hand-man of our protagonist, Jordan Belfort. I can't say enough good things about this one. It came in at the end of the year and swept my previous #1, Prisoners, right off its feet and knocked me on my ass as well.
The Wolf of Wall Street is the best film of 2013, and I feel honored to be able to witness Scorsese at work.
That's all, folks! Sound off about your own picks for the best of 2013. That's all I got.