It's really the last dream feud for the world of wrestling.
Almost all of the other "fantasy match-ups" have happened by now, and people never stop dreaming about the day that Stinger and The Dead Man finally lock up, if they ever do. It would be a colossal encounter between two of the most respected and beloved figures in the wrestling industry.
There's no doubt that Sting is the biggest star in the wrestling world to have never performed under the WWE/WWF banner. He was righteously referred to as "The Franchise of WCW," due to his popularity and his loyalty to World Championship Wrestling during the 80's and 90's. He won the WCW Word Heavyweight Championship six times, as well as the NWA Championship twice. When WCW and all of its intellectual property and wrestlers was finally purchased by the McMahons in 2001, Sting chose not to come, instead joining Jeff Jarrett's new promotion Total Nonstop Action. Although he's been a staple of TNA for years, he has admitted that there's been several times that he was very close to signing with the WWE, but he's never taken the plunge for different reasons.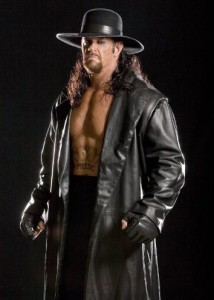 Then there's The Undertaker. He's the WWE's most tenured and most respected superstar. He's been with the company ever since 1990. To this day, he's the sole semi-active wrestler from the very first episode of Monday Night Raw back in 1993. Whenever wrestling fans or wrestlers themselves talk about who the greatest wrestler of all time is, "The Phenom" is almost always in the conversation. Even old-time wrestling fans who hate gimmicks have to acknowledge the success of the Dead Man character and how it's influenced the business. He's won seven world titles during his time with WWE, but his single greatest accomplishment is his undefeated winning streak at WrestleMania. To date, the Dead Man has had twenty-one matches at the grandest stage of them all, and has come out victorious against every opponent and every challenging situation that he's faced.
Sting has gone on the record saying that he'd love to face The Undertaker, and has always wanted to perform at an event as big as WrestleMania, but he's been content to stay with TNA over the past few years. However, that may be changing since that company is in such a tremendous stage of flux right now. Conveniently, this is mere months before the thirtieth anniversary of WrestleMania.
Possible Complications With the Feud
Many fans have said that this feud isn't possible any more for a variety of reasons, chief among them being the health and abilities of both performers. Sting is actually 54 years-old, Undertaker is 48, and both the two men have sustained their fair share of injuries throughout their lengthy tenures in the business. Despite their tremendous experience and talent, they're not in their primes anymore.
Secondly, there's the problem of Sting's reservations about joining. He correctly presumed that WWE wouldn't use the WCW stars correctly or respectfully during the Invasion, and he's never trusted Vince McMahon or any of the other people in charge of the WWE. So in order to get Sting to agree, he'd have to have some assurance that he'd be treated with the respect that he deserves.
Thirdly, there's the problem with booking the match at WrestleMania. It's extremely unlikely that the WWE will allow Sting, a man who has never worked for them, to break The Streak. Taker is their most loyal performer, and they wouldn't shaft him like that just to sell a pay-per-view. So Sting would have to do a job on the Grandest Stage of Them All, and that's not exactly appealing to a new prospect, even an old hand like Sting. And classy as he is, I doubt Taker would give up The Streak that easily.
Now this entire pitch is designed to take place from December up until SummerSlam, and as my readers know, I have a very unhealthy obsession with detail, and there's going to be a LOT of ground to cover. With that in mind, I'll be splitting this into more than one post. This first part of the pitch will be about Sting's arrival into the company, and the latter half will concern his battles with Taker.
Without any further ado, here's the first part of my pitch for Sting vs Undertaker!
December
The story breaks that Sting will not be re-signing with TNA for the next year. He claims that the time has come for him to put his full-time wrestling career to an end. True to form, he thanks all of the fans who have supported him for so long, and wishes TNA all the best in the years to come. Once he leaves TNA television, he isn't seen or heard from again.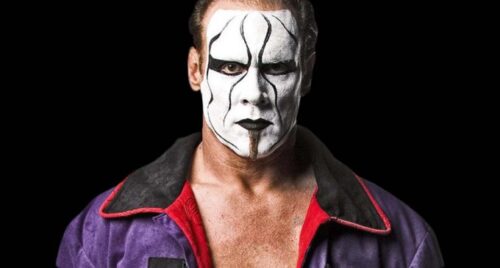 WWE itself doesn't officially acknowledge that Sting has retired, but Triple H makes a mocking reference to his career. Knowing Hunter's promo style, he could easily say something along the lines of "some overrated face-painted has-been decided to pack it in." It should be dismissive and insulting, but also sound legitimate enough to make fans angry, not unlike Triple H's recent comments about Jericho, RVD, and Edge.
Meanwhile, The Undertaker is still absent from WWE programming, but the company begins speculating who he could face this year. Daniel Bryan returns to his pursuit of the WWE title, and CM Punk focuses on trying to win the Royal Rumble, opting not to face the Phenom again after their last encounter. John Cena is still doing his best to keep his World Heavyweight Championship, but likes the idea of having an "I Quit" match with Taker. Other stars like Dolph Ziggler, Dean Ambrose, and Chris Jericho all express interest in challenging the Streak. However, Brock Lesnar is still waiting in the wings, and nobody can predict what he'll do at any given time.
January
At this point, over in WWE, Vince has returned to television, and is having some issues with Dusty Rhodes. Dusty confronts Vince on Raw, and starts cutting a particularly heated promo about how Vince has grown apathetic in his later years, and in doing so, has let his company fall into a creative and competitive recession. Despite all of the advances in production, media penetration, worldwide access, and the new "family friendly" image, the modern WWE  isn't half as good as the old WWF or WCW before Bischoff and Russo came along. He also claims out that the talent on the roster and the audience members themselves have been almost numbed by seeing the same old crap all the time.
This of course gets Vince hot under the collar, and in response, he verbally buries both Dusty and WCW and starts going off about how the WWE is the greatest promotion in the world. He claims that if Dusty were in control of the show for just one night, it would be the lowest-rated episode of Raw ever. Dusty says, "I'll take that bet and prove you wrong. But it would have to be on my terms."  Vince accepts and charges Dusty to produce one episode of Monday Night Raw in February, the night after the Elimination Chamber pay-per-view. Being the egomaniac that he is, Vince gives Dusty carte blanche to book the show with all the resources that he would need, thinking that this will make Dusty's inevitable failure even sweeter.
February
It turns out that Dusty wants his episode of Raw to be a tribute to World Championship Wrestling. He claims that this way he can give the younger fans a taste of the good old southern style of wrestling, and send the older fans on a trip down memory lane. He could even make a claim saying, "ECW got their One Night Stand. Why can't we have one?" With control of the roster and Vince's checkbook at his disposal, he starts bringing some of the old WCW stars back, as well as drafting his own Team for a special WarGames match on this show. Three weeks before the episode debuts, it's announced that it will be called "Raw Goes Nitro" and it will take place in Atlanta, WCW's hometown. Dusty even persuades Jim Ross to do commentary again, just for the one night.
However, he does have to face some specific stipulations from the WWE management. Triple H claims that he wants to get back in shape for a match at WrestleMania, and he insists on competing against one of the old WCW stars, just to prove how much better he is than any one of them. Either someone like Booker T or preferably Chris Jericho answers the challenge, and the match is booked to go on after the WarGames match, towards the end of the show. Vince keeps his hands clean from the planning of the event, claiming that he has more important matters to attend to, like finding The Undertaker a decent opponent for WrestleMania 30.
Speaking of which, vignettes are airing on both Raw and Smackdown promoting The Undertaker's return to the WWE, although they don't say when he'll actually be coming back. This should keep viewers on their toes, and coming back to see it live.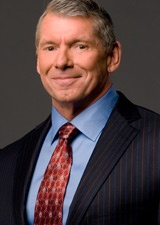 On the Friday before Raw Goes Nitro, Vince and Triple H both come out on SmackDown to address some stipulations and matches for the Elimination Chamber PPV, and to trash the upcoming Raw episode. They admonish Dusty for thinking some of the "old broken-down has-beens" would make people more interested in watching the show, and get in some more shots at WCW's memory. Then they mention how there's one really big name missing from this roster. Someone who recently retired, and is referred to as "The Franchise of WCW." They don't say his name, but the fans should be able to tell that Vince and Hunter are both talking about Sting. Hunter makes another comment about how he always wanted to get his hands on The Stinger, and is disappointed that Sting is too much of a coward to show his painted face in the WWE.
Now this little fact could make some people believe that Sting will appear at the Elimination Chamber, but when the event airs, Stinger is nowhere to be found. However, right before the main event, Triple H receives a package from a courier. When he opens up the box, he quickly draws his hand back and rapidly moves away. The camera zooms in on the box to reveal that it's full of giant scorpions.
Raw Goes Nitro
I could use a whole post to describe my pitch for his event, so I'll just keep it short. For the sake of the fantasy booking, let's imagine that the episode went very well overall, with plenty of old WCW stars appearing and the company actually pays some decent homage to their old rival promotion. The WarGames match is a hit, and maybe there's even a match to reinstate the Cruiserweight title. Then everyone starts preparing for the match between Triple H and Booker T. Unfortunately, since he's been away from the ring so long, Booker isn't in the best shape to compete, and he falls to The Game after an entertaining, but quick match.
Triple H grabs a microphone and starts making fun of WCW and their talent. He then invites any of the old WCW superstars to come out and face him. A minute passes, and everyone is waiting with bated breath. Maybe some fans start chanting "We want Sting!"
Then a single word cuts through the silence. "WOOOOOO!" And then Ric Flair's theme music hits. The Nature Boy walks out from behind the curtain, microphone in hand, and begins his famous strut down the aisle toward the ring and greets the crowd. Triple H is glad to see his old mentor, but he reminds Flair that he's supposed to be retired and they can't wrestle.
'Naitch picks up the mike and says, "I'm not out here to wrestle you, Hunter. I just came out to watch this up close. There was no way I was going to miss this!"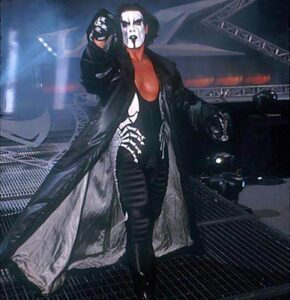 Triple H is confused. "Watch what?" Then all the lights in the whole arena go out, including the TitanTron.
When they come back on, standing there on the announce table is the one and only Sting, in classic Monday Night Wars paraphernalia. Jim Ross is going crazy on the microphone. "DEAR LORD IN HEAVEN! I never thought I'd live to see this day!"
Sting leaps off the announce table and heads right into the ring to start working on Triple H, who is shocked beyond all belief. Sting hits him a few times with the bat, and tries to give him the Scorpion Death Drop, but his quarry escapes his grasp and rolls out of the ring. Sting  helps Booker to his feet and gives him a hug, and welcomes Flair as well.
Now all the other old WCW stars come running out from the back of the curtain to run towards the ring. Sting happily reunites with his old comrades like Arn Anderson, Lex Luger, DDP, Big Show, Vader, Rey Mysterio, Sid, and whoever else showed up for the event. The whole locker room empties to see this reunion up close. The fans are going crazy, chanting "Welcome Back!" and "You've still got it!" Everyone's got a smile on their face.
BONG!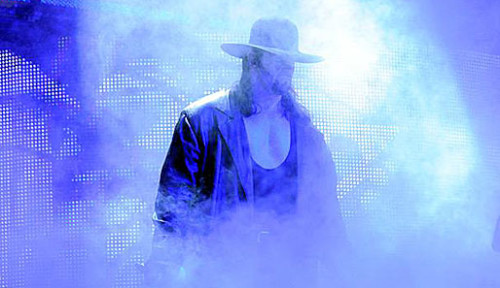 The arena goes dark again, and everyone screams. They know what's about to happen. Sure enough, fire begins to burst from the ground and fog starts to fill the entrance way. Amidst that smog and fire walks the unmistakable profile of The Undertaker. His music dies down, and Taker points right at Sting, and lifts a microphone to say four small but infinitely powerful words.
"STING……NOW… OR NEVER!"
To be continued next week on Most Heroic!