This past Monday, George R.R. Martin, the author of the fantasy series A Song of Ice and Fire, took to his online journal, "Not A Blog," to address the latest episode of  Breaking Bad. The man behind the Game of Thrones universe described AMC's hit crime drama as an "amazing show," and he concisely and effectively summed up the latest episode by saying, "Talk about a gut punch."
Martin isn't the only one praising "Ozymandias." Everyone from Renegade's own Caliber Winfield to Vince Gilligan himself seems to agree that it was perhaps the best episode of the entire series. At the moment, the episode currently features a rare 10/10 stars rating on IMDB.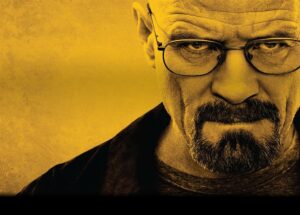 But Martin had another, more impressive compliment to offer the show.
"Walter White is a bigger monster than anyone in Westeros."
Let that sink in for a second. The man who created everyone in Westeros, including Tywin Lannister, the Boltons, Walder Frey, and Joffrey Baratheon, who are all some of the most hated characters in any medium of fiction right now, has proclaimed that Breaking Bad's Walter White is worse than any one of them. That is some very high praise.
After that proclamation, Martin took the time to talk about the opportunities for Breaking Bad and Game of Thrones to win at the Emmy's this coming weekend. His statements are enclosed here in their entirety.
This is the final season of BREAKING BAD. I think GAME OF THRONES may have a shot at upsetting BB for this year's Emmy (only a shot, though, I think they are the clear favorite), which pits us against their previous season…  but there's no way in hell that anyone is going to defeat BREAKING BAD next year, when their last season is the one in contention.

Admittedly, trying to handicap the Emmys is a mug's game. You never know. But for what it's worth, I think this year is our best chance of actually winning one. Given the splash the Red Wedding made, our profile is likely as high as it is ever going to be. We had a great season. If the Academy is ever going to give their ultimate accolade to a fantasy show (something that is by no means certain), it's going to be this year, I think.

But we'll see.  BREAKING BAD, MAD MEN, DOWNTON ABBEY, HOMELAND, and HOUSE OF CARDS will have something to say about that as well. All good shows, I think. A couple are great shows. HOMELAND is the defending champ, MAD MEN's won four, and HOUSE OF CARDS has that whole "gamechanger" thing going for it. Should be an interesting race. We'll all know on September 22.
Martin's right about several things here. I can't imagine a world where Breaking Bad's nigh-immaculate final season goes unrewarded at the Emmy's, especially after "Ozymandias." But he also has a point about Game of Thrones having a slight edge this year. I don't think there was anyone who could have predicted or wasn't shocked by the events of the Red Wedding. (Aside from the fans of the books, that is.) But we won't know for sure until the announcement is made.
Now regarding the idea that Breaking Bad's Walter White is worse than anyone in Westeros, I can't say that I agree. As much as I dislike Walt, I hate the villains of A Song of Ice & Fire that much more. But that's just my opinion.
What do you think about Martin's claim? Do you think that Breaking Bad's Walter White is worse than people like King Joffrey, Craster, or Ser Gregor Clegane? Do you think that Game of Thrones will upset Breaking Bad at the Emmy's? Why don't you just tell us what you think in the comments below?
Source: George R.R. Martin's LiveJournal