Katee Sackhoff has obviously been featured in the press this week as she and other costars hit the ground running to promote Riddick, the third film in the sci-fi series led by Vin Diesel. (Read the Renegade Riddick Review here.) But even before this week, Katee Sackhoff Marvel rumors surfaced when she let it be known that she has an interest in Marvel characters such as Typhoid Mary and Ms. Marvel.
It should also be duly noted that two of her Riddick costars, Diesel and Dave Bautista, have roles in the upcoming Guardians of the Galaxy. Could there be a connection? Perhaps…after all, Hollywood, like a lot of other businesses is relationship based, to a point. This is likely conjecture more than anything else, but hey, you spend time on a set with some fellow actors who are going to be joining the Marvel wheelhouse, you get talking, and the next thing you know, Marvel is talking to you.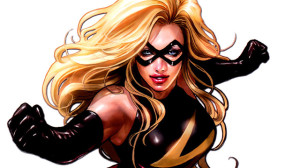 The fact that Marvel has shown interest in the actress is something Sackhoff revealed on the Schmoes Know Movies podcast. Some relevant quotations follow:
"There's been some stuff going on… there's been a lot of checking of availability. I don't quite know exactly… There's been a lot of questions about the first quarter of next year."
First quarter of next year means that Guardians is definitely out, as it is already almost 75% complete in terms of principle photography. However, Ms. Marvel is a character of interest for Marvel studios per Marvel co-president Louis D'Esposito; is this the role that Katee captures to propel her to comic book movie stardom? And how much of a character of interest is Carol Danvers (Ms. Marvel's "common" name)? Could her storyline merit a standalone movie, or would she perhaps be included in Avengers: Age of Ultron?
What are your thoughts about the Katee Sackhoff Marvel possibilities? Who do you think she should play? Let us know in the comment section below.
Source: Screen Rant