This week on Most Heroic, we're going to be debuting a new kind segment for the column. As much as I adore writing about my favorite heroic characters in fiction, the stories that come from them, and how they should be portrayed in media, I think it's about time to start talking about heroes in non-fiction. After all, where would our fictional heroes have come from without some real life examples to inspire them? With that in mind, we're going to start looking at some real life people who have done some incredible actions above and beyond the call of duty.
When I first started thinking about possible candidates for this kind of format, I wanted to focus on finding people that were outside of the mainstream's perception, so to speak. Instead of focusing on well-known historical figures like George Washington, Abraham Lincoln, Thomas Jefferson, Martin Luther King Jr., Gandhi, or anyone like that, I'd like to find people in the modern day who are helping make the world a better place and leading by example in their own lives. That being said, if I do find an intriguing historical example, I won't exclude them from coverage here.
If you have an idea for anyone who fits these qualifications, please feel free to send me some information on them. I'm always for looking for the best examples in humanity.
Now before I start examining my inaugural pick for this segment, we first need to define what a hero actually is. Dictionary.com has two examples that I like, so for now, we'll use these as our criterion.
A [person] of distinguished courage or ability, admired for [their] brave deeds and noble qualities.
A person who, in the opinion of others, has heroic qualities or has performed a heroic act and is regarded as a model or ideal.
With these definitions in mind, it's time to turn our focus to this week's subject.
The man we'll be examining is a former professional wrestler turned fitness instructor named Diamond Dallas Page.
Wrestling Career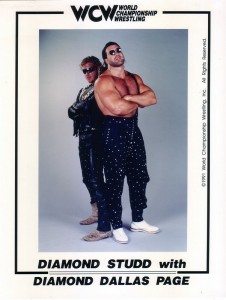 Diamond Dallas Page  (aka DDP) originally worked for the American Wrestling Association during the late 1980's and early 90's, before crossing over to World Championship Wrestling. At the time, he worked as a manager character, not a wrestler. It wasn't until 1991 that he decided to really start pursuing an in-ring career as a wrestler. He'd first attempted to become a wrestler at the age of twenty-two, but it hadn't panned out. At the age of thirty-five years old, most people thought that he'd never be able to succeed, let alone become a big star.
The first few years of his career, he worked as a "jobber," a wrestler who routinely loses matches, but he didn't let that get him down. Since he often wasn't booked for shows, he visited the WCW Power Plant training facility to improve his work in the ring, and learned some of the more psychological aspects of the business from the legendary Jake "The Snake" Roberts. He was so dedicated to improvement that he took the time to have his matches videotaped so he could review and make changes later. After five years of constant training and working the business, DDP's career started to really take off in 1996.
In 1996, the wrestling world was vastly altered by the formation of a new villainous stable called the New World Order, aka nWo. The nWo was a group of heel (bad guy) wrestlers that behaved like a street gang and worked to try and take over WCW. In one of the most shocking moments of wrestling history, Hulk Hogan himself turned on his friends and joined the nWo to eventually become the leader of the group. With Hogan and Eric Bischoff at the lead, the group grew to a massive size and threatened to overtake the company.
At the time, DDP was a heel himself, and the nWo sought to recruit him into the fold. Two of the original members of the nWo and DDP's longtime friends and managerial clients, Kevin Nash and Scott Hall, personally invited him, by giving him an nWo t-shirt after one of his matches. He accepted it, and shook hands with both of them, appearing to join the group. However, when Scott Hall started to turn away, still holding his hand, DDP hit him with his finishing move, the Diamond Cutter, and quickly escaped into the crowd. His bold refusal to join the nW0 solidified him as a fan favorite, and as one of the few heroic wrestlers left in WCW brave enough to stand up against the villains.
DDP continued feuding with the nWo, and he was eventually targeted by one of the groups' most respected and dangerous members, and one of the industry's biggest stars of all-time, the late "Macho Man" Randy Savage. Savage and his valet, Miss Elizabeth, began attacking both Dallas and his wife, Kimberly. DDP was often outnumbered by the members of the nWo, but he didn't let that stop him.  The resulting feud lasted most of 1997, and it later won Pro Wrestling Illustrated's "Feud of the Year" award. Here's a video I found compiling the highlights.
[fresh_video url="https://www.youtube.com/watch?v=qtbbfiif4sw"]
The rivalry with Savage established Page as a main-event level talent, and at the tender age of forty-two, his star was on the rise. Then he received an injury that nearly ended his career.
In early 1998, Kevin Nash hit Dallas with a powerbomb maneuver right on his back. After years of taking rough falls, this last move was the one that broke the camel's back. The impact of the move ruptured his L4/L5 disc so badly that he couldn't even walk or bend over. So wrestling was out of the question. Three doctors told him that his career was over.
During his rehabilitation, Dallas discovered that Kimberly was doing power yoga, and getting quite a workout from it. Dallas will be the first to tell you that he was the kind of guy who wouldn't have been caught dead doing yoga, but he decided to give it a try. It wasn't too long before he realized its benefits, and he started mixing the yoga with his rehab exercises, along with push-ups, squats, crunches, and Dynamic Resistance to improve his strength and cardio along with his flexibility. This workout regimen eventually became DDP Yoga. ( More on that on the next page.)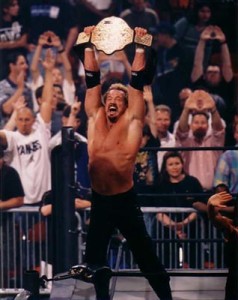 Eventually after months of progress, his body was stronger than ever before. He returned to the ring later that same year, and in 1999, he won the World Heavyweight Championship for the first for three separate reigns. DDP ended up becoming a staple of WCW television, and he was known as "the (WCW) People's Champion," thanks to his non-traditional entry into the business. His work ethic and passion for the business paid off in the long run, making him a beloved and respected superstar.
When the World Wrestling Federation purchased WCW in 2001, DDP was one of the few major stars to accept a buyout of his contract to wrestle for the WWF. Unfortunately, despite winning the European Championship and World Tag Team Championship, his WWF career never took off they way it should have. He was given some of the dumbest gimmicks/angles of all time, and was told that he couldn't even do his signature "Diamond Cutter" hand gesture anymore. After sustaining new injuries, Dallas decided to let his contract  expire in 2002, quietly leaving the company after only a year.
Check out the next page to learn about DDP Yoga, and how Dallas has used the workout program to change lives.