WARNING: THIS Comic-Con 2013 Game of Thrones ARTICLE CONTAINS SPOILERS FOR GAME OF THRONES. IF YOU HAVE NOT SEEN THE ENTIRETY OF THE THIRD SEASON AND DON'T WANT TO BE SPOILED, DO NOT READ THIS ARTICLE. YOU HAVE ONLY YOURSELVES TO BLAME IF YOU DO. YOU HAVE BEEN WARNED.
HBO's Game of Thrones has established itself as a series that no one can predict. Most fans had thought that they had seen it all, and there wasn't any major change or shakeup that could be as bad as when Ned Stark died. Then we came to the Red Wedding, and the world couldn't believe what had happened.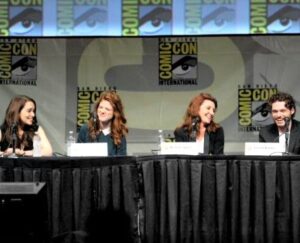 At this weekend's San Diego Comic-Con, the cast and crew talked about how they reacted to the event themselves. Before they addressed the Red Wedding itself, they gave a special touch to honor all of those who had left the show. They showed a montage video that was scored by Boys II Men's song "It's So Hard to Say Goodbye To Yesterday." Fans who attended said that it was an excellent tribute.
The moderator of the Game of Thrones panel asked George R.R. Martin, the author of the epic fantasy novels that the show is based on and an executive producer of the show as well, if he hid when the moment came to see his most infamous scene brought to life. Martin had this to say:
 "I discovered there are no countries without television. I decided there was no escaping it. I managed to survive it."
He also expressed that he was more experienced now, since he first wrote that scene thirteen years ago.
The show's executive producer, David Benioff expressed that the scene came out better than they imagined, but it was a very emotional time on-set for both the cast and the crew.
"That was a rough day on set though. It's the last time we were going to work with them. We work in Belfast and we have a tough crew in Northern Ireland and they were crying. These fictional deaths had people on set who knew what was coming in tears."
Richard Madden and Michelle Fairley also expressed just how hard a scene it was to film. Madden admitted that he cried a lot during and after the filming, since he loved working on the show so much.
There was also a very interesting deleted scene debuted at the panel. The scene was one between Lord Tywin Lannister and Grand Maester Pycelle. It showed an extremely rare moment of leisure for Tywin, who is fishing at the time. Pycelle wants to be restored to his former position, but Tywin has no interest in doing so. He comments on Pycelle's act of being such a wise Yoda-like figure and he muses on how so many people could be fooled for such a long time. The scene sounded very good, and I hope that they include it on the DVDs.
What do you think about what the Comic-Con 2013 Game of Thrones cast and crew had to say about The Red Wedding? Are you still grieving? Will you be watching the next season? Why don't you just tell us what you think in the comments below?
*Renegade Cinema's own Brandon Groppi, posted his own reaction video to the Red Wedding some time ago. For those who haven't seen it, the video will be posted below. Be sure to enjoy!
[fresh_video url="http://www.youtube.com/watch?v=ig63hY2i0rQ&list=TL9aHnbc4AvLQ"]
Source: IGN