Most everyone remembers my undying love for A "not so" Good Day to Die Hard. The fifth entry in the John McClane saga not only proved that there was no use in revisiting the character but that Bruce Willis also needs to go take a 5 year nap before taking up acting again. However, Bruce Willis is back to wreck the day once again with the slow downfall of what was once a truly great action franchise.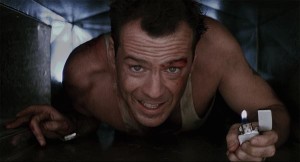 Total Film reports that  Brit Ben Trebilcook penning a treatment for Die Hard 6, which is currently titled Die Hardest. Larry D. Webster– Consulting Producer on A Good Day to Die Hard– gave the gig to Trebilcook after discussions over the project.
What is known about DIE HARDEST so far is that the story begins in New York and then settles into Tokyo for the central conflict. That's right Renegades, we were that close to getting Die Hard 6: Tokyo Drift.
Despite my pessimism for the project, screenwriter Trebilcook believes that fans will love his take on the next sequel.
"It is extremely faithful to the franchise and characters and is a natural progression. It's also a very plausible storyline,… Getting Larry's support was great, but there are many hurdles to leap yet and two of those are called Bruce Willis and [producer] Alex Young. [There's] the possibility producers might go back and find some other source material to base the next one on, like they did with the first and second. Mine though, I feel it could be the Rocky Balboa of the Die Hard franchise."
One thing is for sure, Trebilcook certainly sounds optimistic about bringing redemption to the franchise. However, if they want to get near the respect level of Rocky Balboa,  they need to change the damn title.
What do you think about the Die Hard 6 title?
Source: Total Film