This weekend is the official beginning of Autumn, and that means the official beginning of Oscar movie season. Most of the year's most acclaimed movies come out during Autumn and Winter so that they remain vivid and memorable in the Academy's mind when they're voting for the nominees and winners. So while the Summer blockbuster season is epic and exciting, these money makers are not necessarily Oscar material. The big dramas and knockout performances almost always come out in the Fall (with at least one exception being The Silence of the Lambs, which came out in February and still won five Oscar's including best picture nearly a full year later). So here is a list of some of the year's most anticipated movies, which are also some of the year's most likely Academy contenders.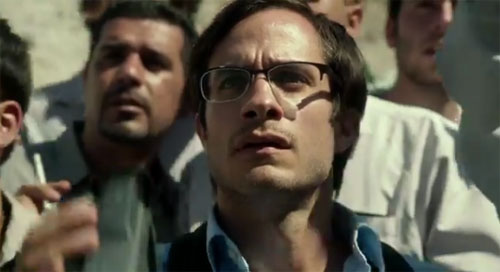 6. Rosewater (November 7)
This is the movie that brought us the revelation that was John Oliver as the host of The Daily Show while Jon Stewart took leave to direct his first feature length film. This is the true story of a journalist, Maziar Bahari (Gael Garcia Bernal) who appeared on The Daily Show and was later detained in Iran and interrogated. During the course of interrogations, his appearance on the show came up as evidence against him for being a spy. Stewart obviously felt a personal connection to the story, feeling it was important to bring Bahari's story to a wider audience than is reached by the book on which the film is based. The first trailer for Rosewater is filled with intense and inspiring glimpses of Bahari's initial experience among the Iranian people and his subsequent imprisonment and brutal interrogation. Looks like the kind of inspiring "beat the odds" story that the Academy loves.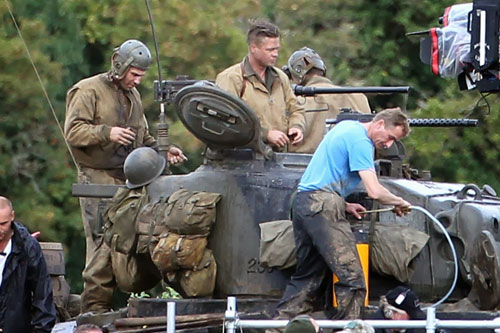 5. Fury (October 17)
This is a Brad Pitt led, David Ayer written/directed World War II tank movie. Wardaddy (Pitt), a war hardened leader, takes his crew and tank on a mission behind enemy lines. The trailer is mostly filled with dirty, gritty, muddy, and dark imagery while Pitt spouts war platitudes in a dramatic take on his Inglourious Basterds Nazi-killin' Lt. Aldo Raine. Shia Laboeuf has a mustache and together they teach a naive rookie the horrors of war. The Academy will love it.
4. Unbroken (December 25)
Opposite Brad Pitt with another World War II story is his other half, Angelina Jolie, with her second feature film. This one is about the true story of Olympic runner Louis Zamperini who was imprisoned in a Japanese POW camp during the war. Its another story about the inspiring fortitude of the human spirit, from the accomplishments of an incredible athlete to the courage of a solider. Jack O'Connell plays Zamperini in this Coen Brothers penned screenplay. Plus, Jolie has already proved herself a capable and powerful director in her feature length debut in 2011, The Land of Blood and Honey. The Academy classically does not favor female directors, with Kathryn Bigelow being the only such example honored by the Academy as a filmmaker. The up side is, Bigelow won for a war movie, so Jolie has a half decent shot.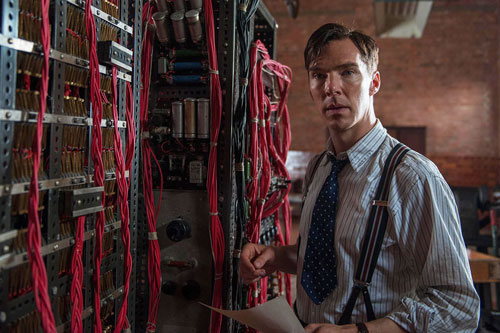 3. The Imitation Game (November 21)
This is one that I'm actually really looking forward to seeing. I will admit, that it has a lot to do with Benedict Cumberbatch in the lead role as code breaking scientist Alan Turing. I am, after all, a great admirer of his work and that strange ability he has of changing his face without really doing anything at all. I mean, compare Khan from Star Trek Into Darkness with Christopher Tietjens from Parade's End with Sherlock from Sherlock with Alan Turing from the first trailer for this film. Same man, same face more or less unaltered by makeup, and yet the quality and the set of the face is always different. It really is quite remarkable. Aside from that, though, its a real story movie about science and scientists – certainly not a common occurrence, though I predict the real science genre might be on the upswing – and about a man, a hero, who was viciously wronged in the prime of his life. I don't know about the movie itself, but Cumberbatch is due for some Oscar action and this looks to be a pretty good chance.
2. Serena (November 12)
This the third movie pairing Hollywood's golden duo Jennifer Lawrence and Bradley Cooper. Lawrence, of course, won her first Academy Award for her first outing with Cooper in Silver Linings Playbook. The pair starred together again in another David O. Russell film, American Hustle, for which she was nominated. I would say that Bradley Cooper is good luck for Lawrence, but her performances speak for themselves and she certainly doesn't need Cooper to win an Oscar. That being said, the trailer for this movie about a depression era couple looks pretty intense and the complicated chemistry between Lawrence and Cooper's characters is clear to be seen. I'm thinking its another easy nomination for Lawrence, though the Academy might save it for her third outing with David O. Russell in 2015. Either way, this movie looks steamy, intense, smart, and dramatic and well worth catching.
1. Interstellar (November 7)
The McConaissance continues strong with this Christopher Nolan written/directed science fiction drama in which Matthew McConaughey plays an engineer in a not too distant future in which he is forced to find another home for the starving planet. He takes an interstellar journey to seek out an Earth-like, life sustaining planet to colonize in anticipation of the coming famine. Given the success of Gravity last year and the anticipated acclaim of Interstellar, it looks like serious science fiction might be set to become the next trend – which could be a good or bad thing. Anything trendy Hollywood is bound to appropriate and pervert for their own gain. On the other hand, science fiction is an extremely important genre that has been desperately overlooked. If these great directors can bring serious, thoughtful science fiction into mass popularity, some good might come from mass exposure to these literally universal ideas, the importance of science, and all the creative potential that fuels the future.