What do you get when you mix strippers with performance art? I'll give you a hint, it's a little bit scary (isn't all performance art though?). It's also the subject of this week's Fiendish Flicks! So grab some wine and crackers my monster lovin' maniacs, because I'm about to serve up the cheese. 
1986 was a fine year for fright flicks, Aliens, Critters, creatures From Beyond, and of course vampires. If you thought Tarantino kicked off the concept of strippers with fangs at the Titty-Twister in From Dusk till Dawn, then let me educate you on where it all really began. Tonight we are going to visit a true dive called The After Dark Club, in the movie Vamp.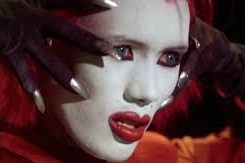 Trying to escape the usual boring haze, three frat pledges (played by Chris Makepeace, Robert Rusler & Gedde Watanabe) vow to bring back exotic entertainment for the house party. Pulling the name out of a phone book, they pick The After Dark Club, which opens (you guessed it!) after dark. The boys scope out the pole dancing talent, with cash in hand they figure it's in the bag, until they catch the act of Katrina; a dancer that brings new meaning to exotic. Played by 80's icon and performance artist Grace Jones, who is fierce to behold at any time, but when she bears a set of polished white biters, she's downright scary. Getting into the club may have been easy, greasing palms and fake IDs, but they soon find that
getting out is a bit harder. Facing escaping a ghetto filled with vampires, valley girls & albino street gangs, Vamp teaches young guys to be a little more cautious when looking for a *ahem* lady of the night.
I make it no secret that I love 80's scare cinema, when flicks mixed equal parts hilarious hijinks and horror tropes for campy good fun, and Vamp is no exception. With the aforementioned Jones, and Gedde Watanabe of 16 Candles fame, this Fiendish Flick is a must watch for those looking for that certain nostalgic style.
Well, that's it for this week, fright fans. Join me again next Friday for some more movie mayhem. In the meantime, put in your 2 cents. What's your idea of the quintissential 80's horror flick? -Ruby