Best Road Trip Movies
It Happened One Night (1934)
Eric Norcross: One of the earliest of road trip movies and certainly the earliest uber-successful one. Although I'm not a fan of Claudette Colbert, I'm always impressed with the work of Frank Capra and his ability to see potential in projects that others might pass up. Additionally I love that he takes risks, and on this, there is plenty of risk for the time it was made. For example, when Colbert shows her legs to a passing truck, this was considered a big "no no" and of course I can't forget to mention the scene depicting Clark Gable without an undershirt – yes, it's true, undershirt sales plummeted after this movie came out. Suddenly American men realized they didn't need 'em.
Road Trip
Derek Ciapala: Seriously? Road Trip of course. I've never laughed as hard as I laughed the first time I watched that movie. It's also Tom Green at his peak, which doesn't say much…
Rick Tym: I actually like the movie entitled Road Trip with Tom Green playing a narrator/starring role. Is it cheesy and a bit crass? Yes. Did it and does it make me laugh? Absolutely. It's ridiculous but stupidly earnest, and I just enjoy it. Now I must go pop it into the DVD player, so excuse me while I learn once again why Ithaca College is, like, the best place on Earth.
Patricia Márquez: I've mentioned before how much I like the bro comedy Road Trip. My second choice is the underrated Joyride starring Paul Walker (RIP). I revisited it shortly after Walker's death because other than The Fast and Furious, it stuck in my mind as one of Walker's more entertaining roles. Sure enough, this horror flick delivered with a cool college buddy/brother plot, a creepy and clever premise, and pretty solid acting from Steve Zahn and Leelee Sobieski. Not only are there several on-the-road twists and car chase sequences, but there are also plenty of behind the screen chills that keep the viewer invested and on the edge of his or her seat.
Pee Wee's Big Adventure
Ruby Le Rouge: This isn't an easy choice, Do I go classic with something like National Lampoon's Vacation? Poignant with Motorcycle Diaries? Hmm…no, I think I have to go with the one that has made me take an actual side trip while on the road. Pee Wee's Big Adventure. I have been inside the mighty dinosaur! And I don't advise going anywhere near the actual diner…seriously, typhoid warning, but if you do go remember to tell them, "LARGE MARGE SENT YA!!" Seriously, this movie still cracks me up.
Dumb & Dumber
Calibertholomew Winfield: Honestly, I know we usually type up a small paragraph for the films we choose, but I'm going to explain my choice in 3 words: Greatest. Comedy. Ever.
Planes, Trains and Automobiles
Derek Johns: I considered also picking Dumb and Dumber but to me Planes, Trains and Automobiles is the quintessential road trip movie. Steve Martin and the late great John Candy are both absolutely brilliant and make for a fantastic comedy duo. It's an absolute shame the two actors didn't do more movies together.
Easy Rider
Mike Luxemburg: How about Easy Rider, though? That movie has more to say about road trips, and more importantly roads than anything else I can think of. That movie is so much about how the mechanisms that connect our country keep us apart at the same time. Isn't that the point of these road trip movies anyway? To articulate the ability to find the familiar in a foreign place (the madness in the bar in Eurotrip is juxtaposed to the traditional weirdness of incest – for example). Dennis Hopper and Peter Fonda explore the dark and the light of exploration, and I can definitely attest to them inspiring me to do the same.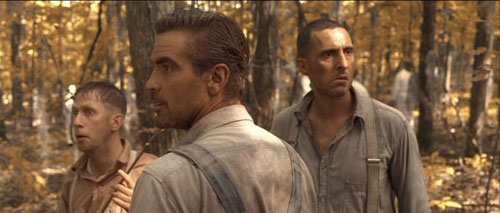 O Brother Where Art Though
Caleb Masters: I've gotta go with the Coen Brothers "O Brother Where Art Though". It's part road trip comedy, part "Odyssey" adaption, and part musical. It's one of the greats in terms of soundtrack and has a number of drop dead hilarious jabs at the 1930s south that blend seamlessly with its not so on the nose use of literary figures from the Greek myth. It may borrow from the most epic road trip tale in all of storytelling, but delivers a clever spin that makes it fun to watch over and over again.
Let's not forget to mention "I am a man of constant sorrow. I've seen trouble all my day!"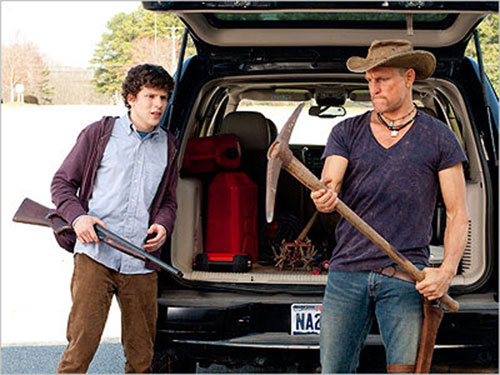 Zombieland
Shawn S. Lealos: The best horror comedy to come out in years has to be Ruben Fleisher's Zombieland.  While it may not be as great as Shaun of the Dead, the two movies offer up a fantastic one-two zombie comedy punch. In this movie, an awkward college student and a bad-ass zombie fighter team up and head out on the road to try to survive the zombie outbreak. While on the road, they meet up with two sisters who are out to find a safe place that they feel might be free of zombies. Along the way, they meet Bill Murray. The movie is just damn brilliant.