The entire locker room is on the stage to open up WWE Monday Night Raw for an important announcement by The Authority. Triple H and Stephanie McMahon come out next. Triple H stares down John Cena and then he pats Seth Rollins on the back before heading down. Stephanie apologizes that they had to be represented by a B+ player in Daniel Bryan. Triple H said that he has no heart. Tonight, everyone will compete in a battle royal …
Except, Triple H said that there will be some superstars not allowed in the battle royal who have refused to evolve, including Dean Ambrose, Roman Reigns and John Cena. He then said, Cena will get a chance to compete. He wanted to help Daniel Bryan and The Shield, and he will get a chance to help them now. He can get in the title match if he wins a stretcher match against Kane tonight. An ambulance drives in.
Dolph Ziggler vs. Seth Rollins
For anyone who was curious, it looks like Seth Rollins is still dressing like he did in The Shield. This was a great match, with both Dolph Ziggler and Seth Rollins looking fantastic in the match. It actually lasted a long time as well. The end gave Rollins the win by DQ when Dean Ambrose ran in wearing street clothes and just started beating the hell out of Rollins until Rollins ran. Dean Ambrose got a mic and said that Rollins needed to get his smug, punchable face back to the ring. Triple H came on the big screen and said he has some bad news for Ambrose…
Winner: Seth Rollins by DQ (***)
Bad News Barrett vs. Dean Ambrose
This was a great match and both Ambrose and Barrett looked great. The show is two-for-two now. The match was the second non-finish of the night, as Seth Rollins came down and tried to distract Ambrose. It didn't work though because Ambrose nailed Rollins and then ducked a charging Barrett. He then hit a suicide dive on both men and battled Rollins into the crowd, where he was counted out. After the match, he hit Barrett from behind and hit his Dirty Deeds finishing move to stand tall at the end.
Winner: Bad News Barrett by Countout (***)
Backstage, Roman Reigns asks Vickie Guerrero to put in a good word for him with The Authority to get into the battle royal. He then asks if she is going to carry their coffee for the rest of her career, because she is a Guerrero and that means something. He then mentions that she forgot their cream. She runs back to get the cream and Reigns does something to the coffees while she is gone. He then tells her when she is going to tell them to take the job and stuff it.
Bray Wyatt vs. Sheamus
Bray Wyatt comes down to the ring with the Wyatt Family. The lights remain down with a ladder in the ring underneath the hanging title belts. Bray cuts a great promo (as usual) about how winning the world title will put the whole world in his hands. Sheamus comes out and says Bray wants the whole world in his hands, but he wants to put his whole foot down Bray's throat. Halfway through the match, Sheamus was thrown out and The Wyatt Family surrounded him, only for The Usos to run down to even things up. That didn't seem to help as The Wyatt Family attacked when Sheamus started to do the Brogue kick. The Usos made the save and then Sheamus laid down and held the propped ladder on the ropes so the Usos could run up the ladder together and hit a suicide dive onto The Wyatt Family.
Winner: Sheamus by DQ (** ½)
Backstage, Stephanie McMahon is drinking her coffee but Triple H's spilled. Back from commercial, Stephanie McMahon is being interviewed but starts to get sick. She runs off and Paul Heyman walks up and takes advantage of the opportunity to cut his own promo interview.
Heath Slater vs. Rusev
JBL mentions that Heath Slater is a one-man-band now, since both Jinder Mahal and Drew McIntyre were among those released last week. Interestingly, Lana did not cut her regular pre-match promo before they came to the ring. However, when they reached the ring, Lana cut her promo. Heath Slater then took the mic and said if they love Russia so much, why don't they just go back because he is sick of hearing about it. Slater got in some nice shots before Rusev destroyed him.
Winner: Rusev (**)
Backstage, Stephanie McMahon pukes all over Vickie Guerrero. Triple H tells Vickie that she is in charge and Vickie starts screaming. Back from commercial and Reigns tells Vickie that Stephanie will probably get fired next week and to do something positive, so she put Roman Reigns in the battle royal.
Kevin Hart is being interviewed backstage. Adam Rose interrupts and says he should be a Rose Bud. Kevin Hart says no and the group starts singing the song, which makes Hart mad. Strange…
Fandango and Layla vs. Adam Rose and Summer Rae
Kevin Hart is called out to the ring to do commentary for the next match. Kevin Hart looks in shock at both the dancing of Fandango and the Rose Buds. He is completely confused. Layla nad Summer Rae had a short cat fight and then Adam Rose hit the Party Foul for a squash win. Kevin Hart went into the ring and danced with Adam Rose and then they both crowd surfed into the Rose Buds.
Winners: Adam Rose and Summer Rae (1/2 *)
The Battle Royal
Everyone is in the ring. Roman Reigns Shield music started and he came in through the audience like usual. Damien Sandow is in a Miami Heat jersey (in Cleveland) and is the first person eliminated. The final five is Roman Reigns, Bad News Barrett, Bo Dallas, Rusev and Big E. Roman eliminated Barrett, Dallas eliminated Big E. That set up Roman Reigns vs. Rusev in the finals. Roman Reigns then eliminated Rusev to win the battle royal and he is in the world title match.
Winner: Roman Reigns (***)
Cameron vs. Paige
The Funkadactyls came out together. Cameron is playing the bad guy, but Paige is just beating the crap out of Cameron. Finally, Cameron ran and then apologized, but it was just a chance for a sucker punch. Paige is awesome, but the crowd doesn't care. I don't get it. Paige won with the PTO.
Winner: Paige (**)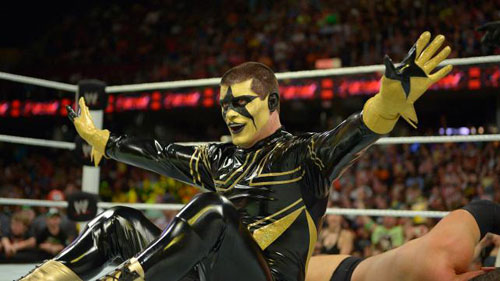 Rybaxel vs. Goldust and Stardust
This is a match where Cody Rhodes chose a mystery partner for Goldust without him knowing who it was. It ended up being Cody Rhodes dressed like Goldust and called Stardust. They attacked before the bell and the fans are chanting "let's go Stardust." It was a squash and Stardust pinned Curtis Axel.
Winners: Goldust and Stardust (*)
Stretcher Match: John Cena vs. Kane
This was actually a really good match. Sure, a lot of people will complain because it is an old match, but that means they know each other well, they are two experienced veterans who know how to put on a good match, and really pull out all the stops. Just when it looked like Cena was about to win, Seth Rollins and Randy Orton attacked. However, Dean Ambrose came in for the save and took both men out. Kane came back and chokeslammed Ambrose but then Cena won anyway.
Winner: John Cena (** ½)