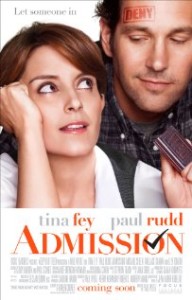 Directed By: Paul Weitz
Written By: Karen Croner (Screenplay), Jean Hanff Korelitz (novel)
Starring: Tina Fey, Paul Rudd, Lily Tomlin, Nat Wolff, Gloria Reuben, Travaris Spears, Wallace Shawn, and Michael Sheen.
The Review
The early months of the year are a bit unusual for theaters. If summer is for the blockbusters and the "money", and fall and the first part of winter is the time when "awards movies," then we're currently in the "Bad Pot Luck" period of the year. We get all kinds of movies that you really don't expect will make any remarkable amount of money and will be largely ignored by the public. Admission is one of those films.
Tina Fey plays Portia, an admissions officer for Princeton University. Portia has been employed by the university for sixteen years and been in a relationship with the same man for ten years, but she has a secret that she's never told anyone.
Her world is turned upside down after she makes a recruitment visit to a new high school run by a charming and free-spirited former Dartmouth classmate, John (Paul Rudd). He introduces her to one of his prize pupils named Jeremiah (Wolff), who is interested in applying to Princeton. Jeremiah is clearly a gifted mind, but his test scores, academic history, ventriloquism hobby, and just a general lack of a "wow" factor, lead Portia to think that there really isn't that much chance of him getting into the school.
Much to her surprise, John actually confides in her that he believes that Jeremiah is her biological son that she gave up for adoption back in college. While at first skeptical, Portia actually does come to see some similarities between the two of them, and starts to believe it. John encourages her to help him get into Princeton, and even though she has always remained professionally detached, and terrified of children, she does decide to do what she can for her son to make up for her own absence.
Like the novel the film is based on, the viewer does learn a bit about the actual process for admissions for elite universities like Princeton. In fact, these tidbits and the insight we get into the system can be interesting, if a bit preachy. This admissions board seem to be more interested in the kids who will cure cancer than Jeremiah, who scored all 5's on eight Advanced Placement tests, without taking the actual courses, but had a few suspensions in his freshman year.
This is the very first time that Tina Fey and Paul Rudd have starred in the same movie, and since they are both so talented and well-regarded, it's a bit disappointing for their first outing to be something quite so mediocre. You'd think that the creator of 30 Rock and the most likable male movie star in the business would choose something with more personality.
Portia's character is easily the most developed of the entire cast, but that's primarily because most of the other characters feel so much simpler and more one-dimensional. Certainly there are some welcome surprises, such as Lily Tomlin playing Portia's self-empowered mother and Wallace Shawn as Princeton's dean of admissions. Tomlin's character is a bit of spice that this too vanilla movie really needs, and Wallace Shawn just needs to be in more movies. Michael Sheen does show up in the film, but for a total of five minutes at maximum and there really isn't that much for him to do.
The film's biggest problem is that it doesn't really grab your interest in a meaningful way for very long. It just falls along the vast median line of films that are just okay and nothing special in particular. Despite an intriguing premise, the script feels like it suffered from several big rewrites. It's not particularly funny or engaging and it's not very memorable. You'll forget most of the details as you walk out the door, and you won't really miss them. It's just unremarkable.
Overall, I'd say this is one that the viewer can skip at both the theaters and home video. There's really nothing to miss by not seeing it.