WWE Monday Night Raw opens with Evolution coming out to the ring, showing the scars of their loss at WWE Payback to The Shield. Triple H claims that The Shield hasn't won. The crowd is chanting "CM Punk" and then Batista asks for his WWE world title match that was promised to him. Triple H talks about the big picture and the plans and Batista doesn't care about the plan and wants his title match tonight.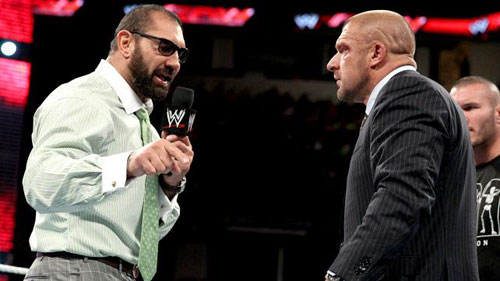 Triple H explains that Daniel Bryan is hurt so he can't give him the title shot even if he wanted to – besides if he did Batista would probably choke anyway. Triple H apologizes and then said that until they take out The Shield, no one will get anything. He said when they win the war then Batista will get what he wants. Batista said that he understands and then said "I quit" and walked out.
Sheamus and Rob Van Dam vs. Cesaro and Bad News Barrett
The match was really good at first. All four men looked solid against each other. However, the end of the match came when Sheamus went for the Brogue Kick but Paul Heyman pulled Cesaro out of the way. Then, Heyman and Cesaro walked out on Bad News Barrett. This allowed, Sheamus to hit Barrett with the Brogue Kick and then Rob Van Dam hit the Five Star Frog Splash to beat Barrett.
Winners: Sheamus and Rob Van Dam (**)
Damien Sandow came out next in basketball attire claiming to be Lance Stevenson of the Indiana Pacers. He then drove home the point that the Indiana Pacers season is over with after losing to the Miami Heat. He then proclaimed that LeBron James is the greatest player in history and the Indiana Pacers are a losing team from a losing city. He then displays his "skills" at basketball but is interrupted by Big Show. He gave the Big Show the ball and told him to make a shot. Big Show chunked the ball to Sandow and then hit him with the WMD punch.
Kofi Kingston vs. Bo Dallas
Last night, Bo Dallas was supposed to face Kofi Kingston but the match never happened. Kane came out and destroyed Kingston, probably thanks to Kofi tweeting that The Authority was abusing their powers. Bo Dallas told the crowd that the reason that LeBron James and the Miami Heat beat Indiana was because Miami BOLIEVES. Kofi got in a lot of offense, but Bo Dallas won the match. He did his victory lap, but Kingston didn't want to be hugged.
Winner: Bo Dallas (**)
Backstage, Renee is trying to get a word with Triple H about the Batista situation but Stephanie McMahon is there and said that she is coming to the ring to make an announcement about the WWE World Heavyweight Championship. McMahon comes to the ring and makes her big announcement. At WWE Money in the Bank, Daniel Bryan will defend his title against Kane in a stretcher match. If Bryan can't compete, he will vacate the title and the winner of the Money in the Bank match will win the title.
John Cena is out next, and as always Chicago hates him. Cena is out there to take up for Daniel Bryan and he said the reason that Bryan won't give up his title, because he is afraid he won't get another title shot if he does. Stephanie makes the point that Bryan hasn't defended his title in a month and because he can't compete, he isn't worthy. Cena said that he missed a lot of time with injuries and so has Triple H. Cena then said that McMahon is a zero as a manager and sucks. That caused McMahon to book Cena to face Kane, and that match is now. "Payback is a bitch and so am I."
John Cena vs. Kane
This was less of a match and more of Kane just destroying John Cena. Kane refused to stop beating on Cena and the referee disqualified him. After the match, Kane tried to tombstone Cena on the ring steps, but Cena fought back, tossed Kane into the ring post and then picked up the steps and threw them at Kane, taking him out. The referees came down and ended this. Kane got mad and destroyed part of the ringside area.
Winner: John Cena by DQ (*)
Backstage, Randy Orton said that he and Triple H are on the same page and tonight Orton gets to fight Roman Reigns.
Heath Slater and Drew McIntyre vs. Los Matadores
Hornswoggle came out in an afro wig, after he was shaved bald last night. In the middle of the match, El Torito took off Hornswoggle's wig and he ran off. That distracted Heath Slater long enough for Los Matadores to pick up the win.
Winners: Los Matadores (1/2 *)
Aksana and Alicia Fox vs. Nikki Bella
This was a match to punish Nikki Bella for what her sister did to Stephanie McMahon at WWE Payback (and maybe for what John Cena said to McMahon earlier). They just destroyed Nikki and beat her fast. After the match, they tossed her outside the ring and kept beating her until the lights went out…
Winners: Aksana and Alicia Fox (1/2 *)
The lights going out were for The Wyatt Family. Bray Wyatt was not in his chair and Luke Harper cut a promo about taking up the cause and punishing The Usos for trying to hurt the cause. Rowan finished by saying "follow the buzzards."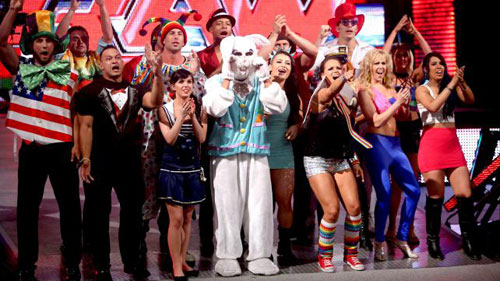 Adam Rose vs. Jack Swagger
Zeb Colter is in the ring talking crap about Adam Rose and his freaky followers. The crowd just wasn't into anything but the entrance and post-match celebration. The match was serviceable but the crowd really hurt it. Rose won the match with the Party Foul.
Winner: Adam Rose (* ½)
Next up is a backstage interview with The Usos about their match tonight with The Wyatt Family.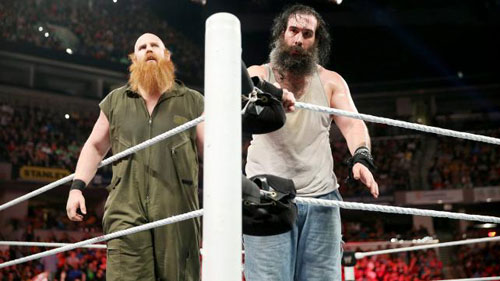 The Wyatt Family vs. The Usos
Instead of the "we're here" intro, the lights came on and the Wyatt Family was already in the ring (without Bray Wyatt). The match started off slow but turned into a really good big man vs. little man match. All four men looked great by the end and it included some big moves including a Luke Harper suicide dive. Harper pinned an Uso with a book end for the win over the tag team champions.
Winners: The Wyatt Family (** ½)
Alberto Del Rio vs. Dolph Ziggler
This is a match where the winner gets into the Money in the Bank match at the next pay-per-view. Del Rio was in the ring when we came back from commercial and Dolph Ziggler got his full introduction. The fans are REALLY loud for Ziggler. It was a nice performance by Ziggler, but Alberto Deo Rio made Ziggler tap out to the cross arm breaker and Del Rio is now in the Money in the Bank match.
Winner: Albert Del Rio (**)
Rybaxel vs. Goldust and Sin Cara
At WWE Payback, Cody Rhodes told Goldust that he needs a better tag team partner. Tonight, Cody Rhodes has handpicked Goldust's new partner and it was a surprise for everyone. The choice of Sin Cara was not a choice that the fans seemed to get behind as they were very quiet when he came out. Ryback has now taken credit for breaking up The Brotherhood, Prime Time Players, Tons of Fun, The Rockers and New Age Outlaws. It wasn't enough to replace Cody Rhodes with Sin Cara because Rybaxel won again, this time pinning Sin Cara.
Winners: Rybaxel (* ½)
The Ravishing Russian Lana is out next and there are three men in the ring with red carpet covering the mat. She said that America doesn't respect their heroes like Edward Snowden who was denied his first amendment rights in America, but Russia honors those rights. Russia also honors their heroes and President Vladimir Putin has authorized them to honor a true Russian hero, Rusev. With that, Rusev comes out with a suit on (no tie and a white t-shirt under it). The crowd is chanting USA and Lana keeps telling them to shut up. Rusev is presented with the Federation Hero Medal. They then play the Russian National Anthem while confetti falls from the ceiling. A lot of people may crap on this, but I thought it was a great segment for a bad guy like Rusev. It was so awesomely over-the-top and cheesy.
Roman Reigns vs. Randy Orton
The Shield cuts a nice promo before the match starts. Randy Orton and Triple H come out after that, and Triple H has the sledgehammer in his hands. Seth Rollins brings chairs into the ring. Triple H calls WWE Payback "Plan A" but there is always a "Plan B." Seth Rollins blasts Roman Reigns with a chair and then lays into Dean Ambrose with the chair. The Shield is officially breaking up. Rollins destroys both his teammates with the chair. The fans chant "you sold out" and he hits the Curb Stomp onto Ambrose's head into a chair. Rollins then hands Orton the chair. Orton just destroys Reigns with the chair. Orton RKOs Reigns onto a chair. WWE Monday Night Raw ends with Triple H, Seth Rollins and Randy Orton standing above the beaten Roman Reigns and Dean Ambrose. It was a surprise to see Seth Rollins turn heel, but Dean Ambrose not turn, but that is what happened.
Winner: NO CONTEST