San Francisco is a pretty iconic city with lots of recognizable landmarks and distinctive scenery for movies to take advantage of during the course of their storytelling. Most recently, it's been where the bulk of the action from the new Godzilla takes place and the location of Starfleet Academy in the J.J. Abrams Star Trek reboot series (It is classically where Starfleet Academy is located throughout the original series and its offshoots and films, as well). This weekend, I am visiting this famous city for the first time and thought that a dedication was in order. So here are six of the myriad of movies which take place in beautiful San Francisco.
6. The Room (2003)
This movie is legendary for being perhaps the worst movie of all time. While there are plenty of movies out there that give Tommy Wiseau's The Room a good run for its money, none can quite live up to the cult following and mythology that has built up around this aimless and badly written, acted, edited, and directed movie. There isn't much that tells you The Room is located within San Francisco as most scenes take place in generic locations or in studio sets, but there is a pair of classic transition shots of the San Francisco Bridge. These shots are famous mostly for how amateurish and unnecessary they are, one panning from the left and then later an identical shot panning from the right.
5. The Rock (1996)
This movie is just about as classically Michael Bay as Michael Bay films get, and yet somehow the improbability of the plot, the ridiculous disregard for continuity, and the incredibly inspired casting of Sean Connery and Nicholas Cage makes for one unforgettably fun and pointless movie. It's all set in San Francisco as a military terrorist group takes control of Alcatraz and threatens to release a deadly toxin onto the city unless their demands are met. Cage teams up with Connery, the only man ever to have escaped Alcatraz, and together they infiltrate the prison and save the day. Along the way there are lots of gratuitous explosions, gun fights, and car chases that do absolutely nothing to advance the plot, but take unique advantage of the surrounding scenery.
4. Escape From Alcatraz (1979)
I'm a sucker for Clint Eastwood movies and an even bigger sucker for Patrick McGoohan, who is delightfully sinister as the prison's warden. Maybe you don't get to see a lot of the city in this mostly Alcatraz based movie, but the notorious prison plays a big role in San Francisco's history and is inextricably linked to it in the viewer's mind. In this movie Eastwood and a band of other prisoners make a clever and daring escape from Alcatraz under the complacent and sadistic nose of McGoohan's Warden. The level of badassery in this movie is pretty astounding.
3. Star Trek IV: The Voyage Home (1986)
This is one of the most popular of all the original Star Trek movies, especially for non-Star Trek fans. The main attraction for the wider audience is the essential non-trekkiness of it, which is a bit controversial for real Trekkies. While The Voyage Home acts as the direct sequel to The Wrath of Khan and The Search for Spock, it also works as a fun standalone movie after the more serious tone of the previous movies. In this adventure Kirk and Crew must go back in time and bring back a pair of humpback whales in order to save the Earth from an alien probe trying to contact the species which is extinct in the future. The crew struggles with the everyday workings of 1986 technology – manual computers, using money, public transit – and split up across modern day San Francisco in order to complete their mission. It is a bunch of lighthearted silly fun, but like most original Star Trek movies under the watchful eye of Gene Roddenberry, it has an important message.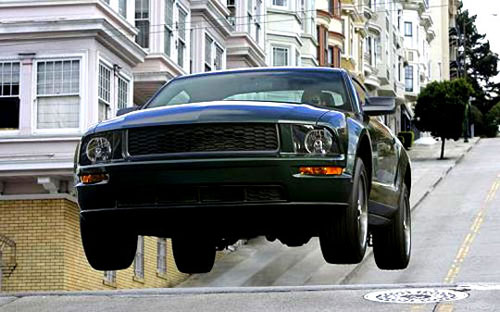 2. Bullitt (1968)
Bullitt is the story of a no-nonsense San Francisco cop named Frank Bullitt (Steve McQueen) who must solve the mystery of who killed a witness under his protection. It's not only one of the coolest movies in existence, but it has one of the most iconic car chases in film history running right through the heart of San Francisco. Steve McQueen exudes a steely coolness worthy of Humphrey Bogart, but with a bohemian hipness straight out of the beat generation. He's a man of few words – succinct and to the point – and he knows how to wear a turtle neck. It is also an exceptionally well shot movie. Director Peter Yates has an eye for spy fare and car chases, with a history both as a race car driver and as a regular director on TV shows like The Saint and Danger Man (aka Secret Agent). There really isn't a bad shot in the entirety of Bullitt – including the location shots of San Francisco itself – and is one of the more interestingly envisioned police thrillers of any era.
1. Vertigo (1958)
Alfred Hitchcock's classic psychological thriller Vertigo recently replaced Citizen Kane for number one on AFI's top 100 movies of all time, but the movie wasn't always so popular. It was poorly received by viewers and critics alike in 1958, when the twisted story of sexual obsession was far ahead of its time. Starting after his stint in WWII, James Stewart had started dabbling in darker fare and Hollywood audiences had yet to accept the all-American boy in something so cerebral and sinister. Aside from those classic elements of the movie that makes it a modern masterpiece, it could also stand as a great piece of tourism marketing. Much of the movie takes place among San Francisco landmarks like the galleries at the Legion of Honor and the bay at Fort Point. Stewart tails Kim Novak aimlessly through the picturesque and famously hilled streets of the city. If you want to take a virtual tour of San Francisco, Vertigo is the movie for you.