If you are anything like me, you were screaming at the screen Sunday night during the season 2 Finale of Hannibal on NBC. In fact, every time Kade Purnell hits the screen, I cringe and wish
that she would be served up as a main course (but alas, she was one of the few that Creator Bryan Fuller did not lay waste to at the close of the season). Mostly I brooded about the massive cliff hanger, and whether Bryan Fuller knew if the show was going to get a next season when he wrote that episode. In an interview with TV Guide Fuller spilled the dirt on the finale bringing the show "Full Circle", and what he has in store for us fans in Hannibal Season 3.
When Season 1 ended with Will Graham in the very cell that Hopkins stood in the film Silence of the Lambs, I remember being awestruck. It
was the perfect astonishing ending, and we knew where we stood. Will Graham knew what he had to do, and we knew what he had to do. There was no question where his loyalties rested. The ambiguous ending to this last episode leaves us dying to know, well, whose dead? It also had us guessing whose side Will Graham was really on, which I had whole heartedly thought was the the side of the law when Freddie Lounds was revealed to be still alive, but that just wasn't the case.
Bryan Fuller said, "Honestly, Will did not know what he was going to do next in terms of who he was going to betray and who he was going to save. I think he could see a world in which he allowed Hannibal to get away, and there's a world where he could see him incarcerated. When Will calls Hannibal to say, 'They know,' part of it was to bring the series full circle back to that very first episode and create moments to parallel that. But also for Will, it could mean two things, [which] we won't really understand with absolute clarity until Season 3. On one level, it could be exactly as it appears with him calling his friend and warning him that trouble's coming. Or it could be Will calling and telling Hannibal, 'They know,' because he wants Hannibal to get out of there before Jack arrives because he's worried about Jack's safety. We really wanted to embrace the idea that the audience should not know at this stage what Will Graham's intentions are because we have a few more punches to be pulled — and not pulled — in Season 3."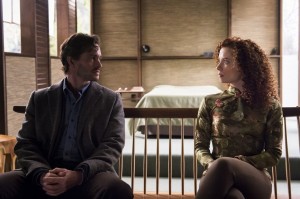 That being said, we at least know that Graham lives to see another day, but who knows just how many? According to Fuller, they will be staying very true to the source material when it comes to how Will and Hannibal's story will end. So if you don't know their literary history, now is the time to grab a copy of the Hannibal series written by Thomas Harris  and brush up. As for Jack and Alana, there may be a couple of funerals in store.
Bryan Fuller stated that the first episode of Hannibal Season 3 will serve as a sort of pilot, the show starting fresh with a whole new perspective. Dr. Beverly Du Maurier being the bridge between the last 2 seasons and the new season to come, "Season 3 is going to be a lot of fun because it's going to be taking a lot of disparate elements from the novel Hannibal Rising and the novel Hannibal and mashing them up together as part of the thrust of the season.
It's going to be fun to bastardize two novels into one sort of Frankenstein season. I will brace everybody right now: We're significantly changing the Hannibal origin story from Hannibal Rising."
If you have been following the show, and followed the fan news, you might be aware that the material behind the Silence of the Lambs story is as so far off limits, so it's not a surprise that there are changes in the works for the rest of series as well. It's rumored that Fuller is still trying to get the rights to Silence, but if it's not possible it makes sense to prepare and set up for a while new story arc. A lot of times we groan when a Director veers away from the books that we know and love, but the changes in the Hannibal storyline so far have been exciting and intriguing. I admit to being on the edge of my seat up until the very end, so am excited to venture into new unexplored places in the Hannibal world residing in Fuller's head.
Though circumstances may change, a few key characters will remain, being woven into the world in a "unique way." With Lecter heading to France, We will get to meet Hannibal's Aunt, Lady Murasaki; who was  introduced in the book Hannibal Rising. Francis Dolarhyde, the
serial killer from Red Dragon, will also enter the picture. It isn't known yet who will play in these roles, though with Fuller's penchants for hiring actors he has worked with before, I am holding out hope for Lee Pace to be cast as Dolarhyde. Having seemingly always played relatively likable men, it would be great to see him take on a much darker role. 
When Hannibal Season 3 will start is also as yet unknown, but rest assured Hannibal fans, as soon as we know, you know. We wait with bated breath for more details and casting news to come.
Source: tvguide.com