Best Sports Movies
Angels in the Outfield — The Mighty Ducks
Eric Norcross: Not a sports fan but love Angels in the Outfield. For some reason this movie really clicks with me. If I had to choose another, the first two Mighty Ducks movies are quite entertaining and have extremely well developed characters both young and old. It's hard for me to choose between all those because they're the only sports movies I can actually say I dig.
Dodgeball: A True Underdog Story
Ruby Le Rouge: Okay, after much consideration I came to a decision. Dodgeball, it has heart, it has spunk and it teaches you a valuable lesson, if you can dodge a wrench, you can dodge a ball. Oh yeah, and be true to yourself. I'll be a pirate if I want to be a pirate.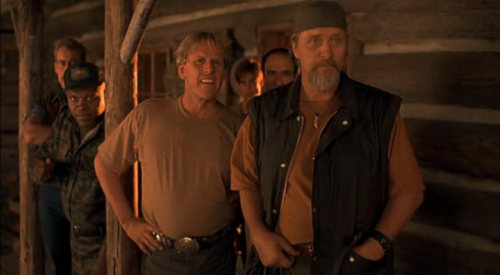 Surviving the Game
James Cochrane: Some people like to tell you that Human Hunting is an Urban Legend (Screw you Wikipedia- everyone knows you are user created lies) but I think we all know that Surviving the Game is about as real as, say- O.J.'s 2007 book, If I Did It. Hit Man Tourism is the last bastion of civilized sport. How do you think countries like Cambodia and Thailand stay afloat? Not the Lady-boy sex-trade, I'll tell you that. Now, I have never tasted Human (not on purpose, anyway) but I have had Fox and I am pretty sure with the right spices Human must taste pretty damn good. But! above all else, Surviving The Game, with the all too perfect cast of Rutger Hauer, Ice-T, John C. McGinley, F. Murray Abraham, and God-damed Gary Busey, you have yourself a taught little story that shows just how resilient human beings are- showing us that the ultimate sport is not Golf, but slowly, and methodically, hunting Homo Sapiens Sapiens in order to mount their head on the wall of your secret cabin, and a gulp from a metal coffee mug full of their still warm blood ultimately ingesting their almost ascended Spirit.
The Natural
Derek Johns: I'm not sure what it is but I have always had a soft spot for baseball movies but none more so than The Natural. The role of the mythical outfielder Roy Hobbs is one of the best of Robert Redford's career and "Wonderboy" has to be the greatest baseball bat ever created. The film is also elevated by the all star supporting cast of Glenn Close, Kim Basinger, Darren McGavin, Robert Duvall and Wilford Brimley. Honorable mentions go to The Sandlot, The Hustler, Rudy and Moneyball.
Rocky IV
Calibertholomew Winfield: Rocky 4 – C'mon, it's the film that ended the Cold War! I know that the original is a better "film", but there are few movies that are as fun as Rocky 4. You have an onslaught of some of the greatest montages in history, including my all time favorite, the flashback scene with "No Easy Way Out." On top of that we have the shocking death of Apollo Creed, which is promptly followed by the greatest line ever spoken by a villain "If he dies, he dies". That villain? Ivan Drago. The Soviet's answer to our entire army. He's the greatest weapon that technology & drugs can create. Meanwhile, Rocky is on a mission. He's training in the mountains, crumpling up pictures of Drago, and refusing to shave until it's go time. This film is just so damn good.
DRAAAAGGOOOO!!
United (2011)
Bethany Lewis: United (2011), a British movie about the formation of the Manchester United Football Club and the tragic plane crash that nearly broke the club but rallied the country around it, making it one of the most popular football teams in England. It stars David Tennant (Doctor Who) as the team's dedicated coach/manager and focuses on the deeply human struggle to overcome tragedy without losing sight of the sport itself.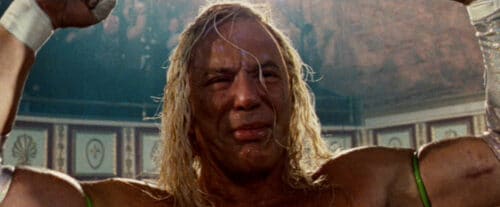 The Wrestler
Shawn S. Lealos:  While many fans don't consider professional wrestling as anything more than fake entertainment (you know, kind of like every other television show), what the competitors do in the ring is far from fake. Director Darren Aronofsky visits the sport of professional wrestling and takes the viewer inside the ring in The Wrestler. We see everything, from the planning of the matches to the razors the athletes use to draw their own blood. We also see the toll it takes on the body and the pain it inflicts on the psyche of men used to adulation when the cheers finally die. Mickey Rourke really put everything into his role in the movie and I also liked how they contrasted his place in the world with that of Marisa Tomei, a stripper whose occupation is very similar to a wrestler, where the younger talent is prized and the older pushed aside. The movie is about living when life has already passed you by, something all professional athletes face in their lives – much earlier than any other occupation.
Jesse Blume: My pick for sports movie is Darren Aronofsky's "The Wrestler." In quite a few ways, this film served as my gateway to the wrestling world, which I remain utterly fascinated with. I never had any doubt as to the nature of the wrestling business, but I admit that I had little idea or even care about how brutal the life of a pro wrestler could be until I met Randy "The Ram" Robinson. Mickey Rourke delivered the performance of his life as Randy, and I still say that he deserved the Oscar that year. No matter how flawed a person Randy is, I can't dislike him. Even now, over five years later, I cannot watch his tearful boardwalk conversation with Stephanie without feeling something. The Wrestler is one of the saddest sports movies you'll ever find, but that doesn't make me love it any less.
Friday Night Lights
LJAY: I hate to go with a movie that everyone loves, but maybe that's what makes a great movie. The other thing that brings me to believe when I've found a great movie is when its one that I HAVE to watch if I breeze through the channels and see that it's on.
The best sports movie ever is "Friday Night Lights." True to what I just said, I just watched this movie a few weeks ago because it was on. I've also read the book but awkwardly never seen the TV show. Next on my list is to see Permian High School in Odessa, TX. the next time I am in Texas for more than a day.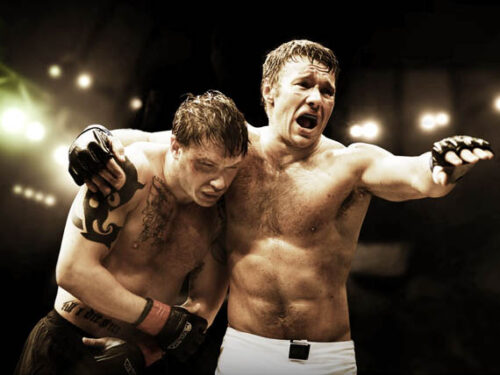 Warrior
John "D-Rock" Dotson:  I've never had a huge devotion to the sports genre. I find most films in the category predictable and typically formulaic. There are exceptions though, like Raging Bull, The Wrestler, Any Given Sunday, etc. Most others stick very close to a rise after the fall story arc. Warrior unleashed the formula in a way like never before. Instead of one underdog story, we get two colliding against each other for the same redemption. One brother fighting to save his home, and the other fighting for a fallen soldier's family. It's masterfully built around the bonds of the brothers and how broken things are between them. Once they get in the ring, the last moments in the film are so moving it's all you can do to fight back the tears. I love Warrior for its depiction of family, and the way it shows men's relationships within them. You won't find many crowd pleasing films like this one.