Directed by Sam Raimi
Written by Sam Raimi, Chuck Pfarrer, Ivan Raimi, Daniel Goldin and Joshua Goldin
Cast: Liam Neeson, Frances McDormand, Colin Friels, Larry Drake, Dan Hicks, Ted Raimi, Dan Bell
The story is fascinating. After Sam Raimi made his two Evil Dead movies, he was looking to make a comic book adaptation. He wanted to make something like Batman, but he couldn't get the rights to it and Tim Burton made it instead. He wanted The Shadow, but was rejected as well. Raimi finally threw up his hands and decided to create his own superhero. Thus, Darkman was born.
The movie is an origin story, with Liam Neeson playing scientist Peyton Westlake, a man who is trying to find a replacement for skin to help severe burn victims. That is ironic because he is attacked by a gang of henchmen led by Larry Drake's Durant when his girlfriend Julie (Frances McDormand) learns that a corrupt developer is paying off the building commission. When they find the evidence, they then attempt to kill Westlake, disfiguring him in the process. They then blow up his building, leaving him for dead.
Westlake survives when he is found burned and in a coma. The medical facility that takes him in, believing him a homeless man, gives him an experimental medical treatment that kills all his pain sensors. Without his brain needing to process pain, he starts to become emotionally unstable, prone to cases of intense anger or frustration. He then sets out to gain revenge on the men who did this to him, as well as protect his girlfriend from danger.
The movie was a flop in the theatrical release but was a big enough success on home video to warrant two sequels. The movie, while maybe not what audiences who saw Batman might have expected, is a perfect movie for home video, a cult movie at its core. The makeup and traditional effects work is top notch and the movie holds Sam Raimi's love for both gore and comic horror while presenting it in an almost perfect comic book story.
It's hard to really review a movie that is over 20 years old and has such a beloved cult status. However, Darkman might be one of the best original comic book movies ever made and was proof that Sam Raimi had what it took to get a licensed property, which he did a decade later with Spider-Man. If you haven't seen Darkman and love comic book movies and/or raw-Sam Raimi direction, do yourself a favor and pick up the Scream Factory release of Darkman.
Special Features
There is an audio commentary track, as a host interviews Bill Pope, the Director of Photography for Darkman. The commentary is done as an interview with filmmaker Michael Felsher. The two talk about a lot of things, from how Pope was hired despite never working as a DP on a feature movie before as well as how he accomplished some of Raimi's more signature shots.
Dissecting Darkman with Liam Neeson (07:29) is a nice interview with Neeson as he looks back at the movie. He did a lot of talking about how great it was to work with Sam Raimi because of his respect for his crew as well as hit inventive and creative eye for direction. He also mentioned how hard the work was but had a lot of praise for Larry Drake and Frances McDormand. It was nice because he said some of the effects are laughable today but the story still works.
The Name is Durant with Larry Drake (15:59) is a nice talk with Larry Drake, the man who played the bad guy in this movie. Drake gave a fantastic discussion, including how Sam Raimi had no idea that he starred in L.A. Law as Benny but had to convince Universal to let him cast him anyway. He also had some nice stories about never flying in a helicopter before this movie, acting against himself, and loving Darkman 2 even more because the movie was more about him.
The Face of Revenge with Tony Gardner (13:21) is a talk with the makeup and effects artist. This was an interesting look at creating the effects for Darkman's face as well as the practical effects that went into the making of the movie.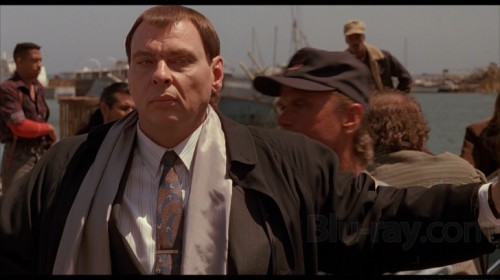 Henchmen Tales (12:57) talks to Dan Bell and Danny Hicks, the two thugs who played the smiling lunatic and the one-legged man. They gave some great stories about the shoot as far as their scenes and characters are concerned. Hicks also revealed the true fate of his character that was cut out of the final film.
Dark Design (16:46) talks to production designer Randy Ser and art designer Phil Dagort about the design of the movie. They talked about designing Darkman's underground layer, the carnival sequence, the scenes with Durant meeting himself (all done in camera since there were no computers at that time), the helicopter scenes and the city of the future. This is a nice companion to the makeup special feature with a look at the awesome practical effects.
There is a great 10-minunte new interview with Frances McDormand. She talks about living with the Coen Brothers and Sam Raimi at the time that Raimi cast her in Darkman. She also mentioned how Raimi was instrumental in convincing the Coen Brothers to raise money to make Blood Simple. She mentions that one thing she regrets was going too far with the feminist persona and didn't give her the proper damsel in distress that the character deserved. She also told a story about a makeup artist she was working with at the time of the interview that studied Sam Raimi's practical effects, proving how instrumental Raimi was in today's effect's world.
There was also a six-minute vintage featurette and a nine minute vintage EPK with interviews, and vintage interviews with Colin Friels (12 min), Frances McDormand (20 min), Liam Neeson (28 min) and Sam Raimi (23 min). These vintage features are sadly the only time we hear from Sam Raimi on this entire Blu-ray. It is really a huge glaring omission on this release.
There is well over two hours of bonus features, and it is all fantastic, but without new Sam Raimi interviews involved at all, it seems there is something missing. Why they could get Liam Neeson and Frances McDormand, but not Sam Raimi, is just strange. At least they were able to add in the old interviews to give fans something from him. The set is rounded out with trailers, TV spots and stills.
Overall, other than the absence of Sam Raimi, this Darkman Blu-ray collector's edition is just spectacular, as expected from Scream Factory.