Amityville is now officially among the long list of remakes and reboots in (pre-) production, with newly announced Director Franck Khalfoun sitting at the head of the table. Known for his work on P2 and the recent remake of Maniac, starring Elijah Wood, the Director will apparently be scrapping the found footage idea that was originally pitched, with the title Amityville Horror: The Lost Tapes and heading in a different direction. With 9 previous incarnations and sequels to the Amityville legacy, we'll see if there's life in the ol' shack yet under Khalfoun's guidance. Though as an avid movie watcher, I'll say that I'm skeptical.
Slated to star in the film are Bella Thorne from Disney's
Shake It Up!
and Jennifer Jason Leigh (
Kill Your Darlings & Weeds
) as a Mother of 3 girls, who move into the notorious haunted abode. Apparently they left the bloody history off of the realty listing.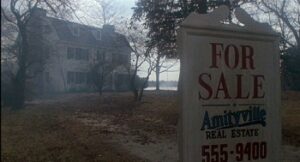 The release date is set for January 2015 by Dimension Films, being produced by Blumhouse Productions, makers of The Lords of Salem, The Purge, and the forth coming Jem and the Holograms movie. (Oh, the horror!)