Triple H came out first to open WWE Monday Night Raw. He told the fans that, when it is all said and done that it is all the WWE Universe's fault that he will end the "Yes Movement" and end Daniel Bryan. He then said he has some things to say to Daniel Bryan and will say them to his face later in the show. That brought out Batista.
Batista said that Triple H has problems with Bryan, but he has problems with him for giving that "Billy Goat" faced guy a chance to be in his main event match at Wrestlemania 30. He pointed out he doesn't even have to get beat to lose. He asked what Triple H was thinking. Triple H responded by asking if Batista really thought Bryan could beat him. That brought out Randy Orton.
Randy Orton said that Triple H left open the possibility that Bryan could be added to the match and Triple H said there was no possibility. He asked if Bryan was in their heads that bad and Batista said "not as much as he is in yours." Orton then asked for a no disqualification match with Daniel Bryan tonight and Triple H said yes. Then Orton looked at Batista and said the reason the people cheer Bryan because they don't have faith in Batista. Then Batista said that the only reason they are cheering Bryan is because Orton sucks as the champion.
Orton and Batista started bickering and Triple H walked off, saying he is sick of Daniel Bryan and the people cheering for him. He then said that he is tired of Hollywood movie stars who think they can come back and act like they know more about running the WWE than he does. He said he is tired of a champion who can't win a match without someone holding his hand. He then announced that the Wrestlemania 30 title match will be a triple threat and now the third man will be whoever wins his match with Daniel Bryan.
WOW.
Randy Orton hit the RKO on a surprised Batista and then posed over him. Backstage, Batista said that coming back to the WWE was a big mistake and walked out of the arena.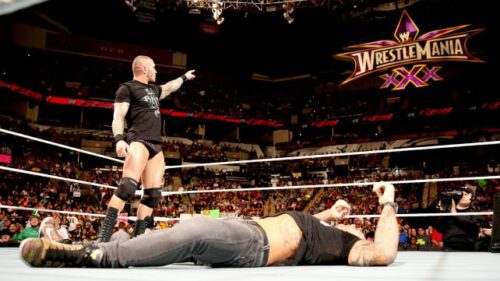 The Usos vs. The Real Americans is next. The two teams fought a GREAT match. It was surprising, but instead of letting the dysfunctional aspects of the Real Americans, they actually fought as a team and looked really good in the match. The end came after Swagger saved Cesaro from the Usos and then took a suicide dive himself. However, when the other Uso went for a suicide dive onto Cesaro, he was met with the Superman Forearm and then a Neutralizer ended it with the Real Americans scoring a non-title win over the Usos.
Backstage, Kane made threats to The Shield and said that, if they don't do what he tells them in the future, he will show them how replaceable they are. At ringside, Hornswoggle was handing out treats and then Bad News Barrett showed up. He then offered the bad news that most people will get drunk and regret their actions for the rest of their lives.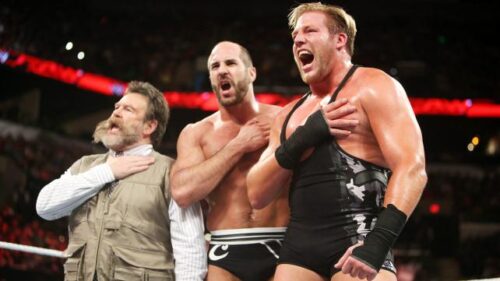 Sheamus came out next for his match against Titus O'Neill. Titus came out with an orange goatee. Christian is at ringside doing color commentary. Christian and O'Neill are both going to be in the Andre the Giant battle royal. Hornswoggle got involved, Titus tried to toss him but Sheamus saved him and won with the Brogue Kick. Sheamus also entered the battle royal after the match. Christian jumped Sheamus from behind after the match and hit t6he Kill Switch on the floor.
John Cena came out next. He said that he was scared of Bray Wyatt because he was worried that people would listen to what he was saying and start to believe him. Bray Wyatt came on the big screen and said that little kids believed in superheroes and weren't old enough to learn that it was all lies. He took a jab at Cena for having a "plastic girlfriend." Wyatt, as usual, cut a brilliant promo and Cena actually sold it well.
Randy Orton vs. Daniel Bryan in a no disqualification match is next. The match was great and decently hardcore (for the WWE), with a kendo stick and steel chair getting involved. There was a great sequence where Bryan used his kick sequence, but rotating with the kendo shots. The end came when Batista ran in and speared Orton. Bryan then dropkicked Batista out of the ring and pinned Orton. Batista came in and hit the Batista Bomb on Orton as Bryan celebrated.
Triple H and Stephanie McMahon had words backstage. She said that Daniel Bryan disrespected her family and Triple H said that he would talk to Bryan tonight like men, which offended Stephanie since she is not a man. She then asked what will happen to the business and their family when Triple H wins the title and has to go on the road and asks what he is thinking. He responded that he is thinking more clearly than he has in a long time and he would handle it. She told him that he better handle it and walked out.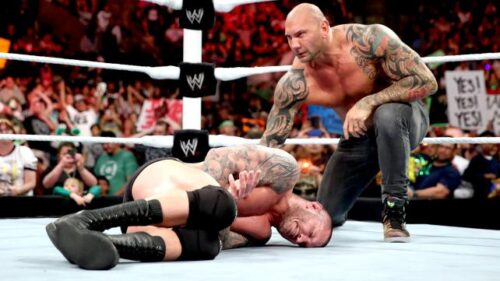 Fandango is out next for a match against Goldust. Cody Rhodes and Goldust mocked Fandango's dancing on their way to the ring. I'm not sure what happened, but it looked like Goldust got busted open a little and after he beat Fandango with the Final Cut, Goldust looked really, really mad. He kicked the buckle and shoved away Cody.
Kane came out next and he blamed Jerry "The King" Lawler of using his "home town connections" to help Daniel Bryan organize the Occupy Raw mess last week. Lawler wouldn't come into the ring so The Shield came down and ordered him into the ring. Seth Rollins got a mic and told Lawler that Daniel Bryan would not save Lawler because The Shield always does what is best for business. They then turned to face Kane.
Kane told The Shield to do what he says because they don't know enough about the business to do what they are thinking of doing. He then attacked and The Shield beat him down. Kane fought back and tried to choke slam Rollins but Dean Ambrose dived through the arm to save him, Rollins hit the side kick and Roman Reigns speared Kane. Then the three men hit their patented triple powerbomb on Kane and stood over him united.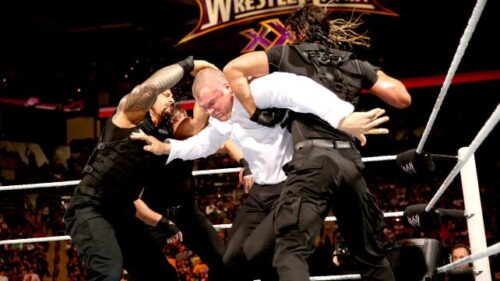 Nikki and Brie Bella are at ringside doing commentary and The Funkadactyls are back in action with Naomi wearing an eye patch to protect her injured eye. They are taking on AJ Lee and Tamina Snuka. Naomi pinned AJ Lee with the split legged mooonsault for the win. AJ blamed Tamina after the match and said that she always wins by herself but loses when Tamina is there. Tamina shoved AJ to the mat and they had a stare down to end the segment.
Paul Heyman came out to the cut a promo and show a video about The Undertaker's streak.
Up next was an eight man tag team match with Big Show, Dolph Ziggler, Big E and Mark Henry taking on Ryback, Curtis Axel, Damien Sandow and Alberto Del Rio. The Big Show is the only man who got a TV introduction and he won the match by pinning Sandow. This was pretty much to advertise the Wrestlemania 30 battle royal.
The next match saw Bray Wyatt pretty much squash Kofi Kingston and the fans seemed to actually be behind Bray in the match.
For the main event promo, Triple H comes out to the ring. He called out Daniel Bryan and then Triple H started talking about how he has only been doing what he feels is the best for the WWE. He said he has no choice but to shut down the Yes Movement and if that means ending Daniel Bryan, he will do it. He then said, there are no hard feelings and it isn't personal and let the best man win. Bryan refused to shake Triple H's hand. Triple H said he didn't blame Bryan because he would have done the same. He then said that he has thrown a lot at Daniel Bryan since SummerSlam, but Bryan is still standing there. He said the fans respect Bryan because Daniel survived what Triple H did to him without quitting. He said Daniel Bryan has earned his respect.
That brought out Stephanie McMahon, who said Bryan endangered everyone's life last week and she is formally pressing charges against Daniel Bryan and sent out police to arrest Daniel Bryan. Stephanie started yelling at Triple H while the police handcuffed Daniel Bryan. Triple H then went in and told the police to stop and then smiled and said they aren't even real cops and attacked Bryan, who was handcuffed. Triple H then destroyed a handcuffed Daniel Bryan while Stephanie screeched. Triple H destroyed Bryan for over five minutes and finished with a chair shot to the head and then a Pedigree. Stephanie and Triple H then started kissing before Triple H said they own the ring and there is no "Yes Movement."