Welcome to the 2nd issue of Word of Mouth with D-Rock!
Word of Mouth is specifically geared for people searching for great films outside the mainstream. If you enjoy discovering films of these nature, then join me every week as I try to increase word of mouth on these hidden treasures. That being said, let's begin.
This week The Incredible Burt Wonderstone will hit theaters everywhere. So this week we will discuss some under-the-radar comedies people should be aware of. Let's not waste anymore time and jump right into this week's picks!
WORD OF MOUTH
Four Lions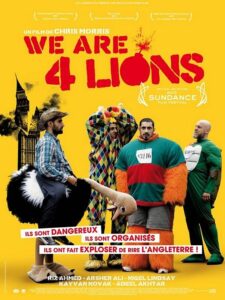 Who says terrorism isn't funny? Right? Well, these gentlemen made it possible. One night, a friend and I were extremely bored and decided to find something to entertain us on Netflix. Fate led us to this insane comedy titled Four Lions. Terrorism is such a rough subject for comedy, but somehow these guys made it hysterical. Why you ask? Because this is about the worst suicide bombers to ever live. If you're looking for something different, turn this on and get ready to NOT be ready. Available for Netflix Streaming.
Safety Not Guaranteed
One of the best films to slip under the radar last year was Safety Not Guaranteed. If you're a fan of quirky comedies, then this one is right up your alley. Aubrey Plaza finally proves she has the acting chops to be a leading lady with this film. The story involves a magazine intern named Darius (Plaza), who is sent with a team to investigate an ad in the paper requesting a companion to go back in time with. The advertisement ends with safety not guaranteed. I appreciated the mixture of romantic comedy elements sprinkled with a slight ingredient of Sci-Fi. It also helps that I have a huge crush on Aubrey Plaza as well.  Available for Netflix Streaming.
Sleepwalk with Me
Sleepwalk with Me is the writing and directorial debut of stand-up comedian Mike Birbiglia. The film is loosely based on his struggles coming up as a stand-up comic. I have to admit I was not familiar with his work until I saw this film. That being said, for a comedian turned fimmaker this is a solid start for his movie career. The autobiographical story deals with his issues involving relationships, finding himself as a comedian, and his dangerous escapades with sleepwalking. This comedy caught me by surprise, and I believe it will do the same for you. Available for Netflix Streaming.
Netflix Pick of the Week
The Imposter
Due to the nature of the tale, The Imposter is a difficult film to discuss without spoiling major details. What I can say is this is one of the best made documentaries out there. Every single minute the dynamic changes in the story. The real life events are so absurd that it's incredible this whole scenario actually took place. My best advice to the readers, DO NOT look up any details for this movie before jumping on Netflix. Just swan dive right in and be prepared to be enthralled by this insane documentary.
UPCOMING RELEASES TO WATCH FOR
Welcome to the Punch
[youtube http://www.youtube.com/watch?v=QvaB5C-6tyo]
Stoker
[youtube http://www.youtube.com/watch?v=JNpDG4WR_74]
Trance
[youtube http://www.youtube.com/watch?v=rvTW1JecmZo]
The Place Beyond the Pines
[youtube http://www.youtube.com/watch?v=G07pSbHLXgg&w=450&h=253]
Upstream Color
[youtube http://www.youtube.com/watch?v=5U9KmAlrEXU]
Mud
[youtube http://www.youtube.com/watch?v=2m9IFlz2iYo]