Directed by: Alan Polsky, Gabe Polsky

Written by: Micah Fitzerman-Blue, Noah Harpster
Starring: Emile Hirsch, Stephen Dorff, Kris Kristofferson, Dakota Fanning
Adapted from a 2006 novel by Willy Vautin of the same name, The Motel Life tells the story of two Reno, NV brothers dealt some hard hands in life, left to fend for their own from an early age after their father leaves the family and their mother passes away from a nonspecific disease. Before she passed, Frank Lee (Emile Hirsch) and Jerry Lee's (Stephen Dorff) mom tells them to always stay together and avoid the state lest they be split up. The two follow Mom's orders but while attempting to jump a train Jerry Lee falls and loses a leg at the knee. That's just the continuation of difficulties that eventually see both on the run from the law when Jerry Lee accidentally kills a young child while driving home from his crazy girlfriend's house and opting to dump the body a block from the hospital rather than turn himself in.
Even though this sounds like a recipe for loathing, one can't help but feel compassion for Frank and Jerry Lee, and it's an understatement to say that this is due in large part to the actor's abilities. Stephen Dorff is great here, with a background of dubious mental ward occupation and affectation for women and drugs. Emile Hirsch is stellar here as the sympathetic younger brother who always has to take care of a f*ck up — even though Jerry Lee rightly points out later that they are both f*ck ups and therefore destined to be affiliated with their own ilk, which is not as bad as it sounds when you see just how much Dakota Fanning's Annie cares for Frank and to a brotherly extent Jerry. Kris Kristofferson also has a small but standout role as used car lot owner Earl Hurley, a father figure to Frank Lee who offers wisdom, but no judgement.
So yes, it's somewhat a mistake when Frank helps Jerry escape Reno and temporarily relocate from their Reno motel digs to another motel across the state (because let's face it, no matter how much you may feel for the characters, the fact remains that a child is dead and rather than face the music, the two decided to become fugitives). But Frank's love for Jerry Lee is something to be respected and appreciated even if it is sometimes misguided; Frank's friend Tommy asks him at one point why he never lets Jerry Lee fall on his face. The answer? Because they're brothers, because all they have is each other, and the world has shown them that they can only really rely on one another.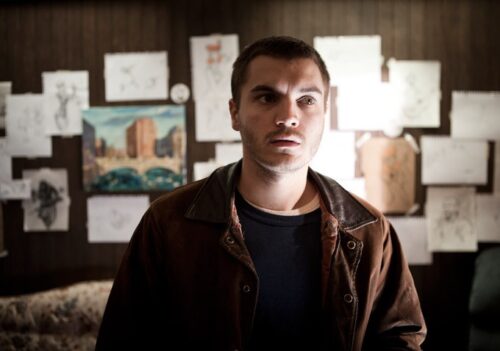 In the hands of less talented actors, writers and directors, The Motel Life may have been either an overly sappy woe-is-me tale or an easy vehicle to hate a character. Instead one is emotionally invested in these quirky brothers, one — Frank — who can tell stories to help them both escape the fear that must be coursing through their bodies while on the run, not so much an escape mechanism but a survival mechanism, and the other — Jerry — who's charcoal illustrations are animated to visually depict the crazy tales his brother tells to soothe them both. The film is excellent in highlighting this audibly and visually thanks to stellar animation work courtesy of Mike Smith. What could have been pretentious under less-than-ideal circumstances is elevated thanks to all involved.
The Motel Life is somehow completely sweet, sad, and uplifting all at once. Writing, direction, cinematography and acting all combine to make a delicious blend of dramatic art — a great indie film with just the right amount of story, conflict and resolution, it is never overbearing in any facet and crisply doesn't overstate its welcome. The film has been around since its premiere at the Rome Film Fest, where it took awards for best editing, screenplay and Audience Award, but only recently received a limited theatrical run this month. It is available for home consumption via VOD, and comes highly recommended from this Renegade Reviewer.