Black Panther was one of the movies announced for the Marvel Phase 3 slate of films, meaning that it will be the first since Blade to offer up an African American superhero in the lead. Now, Deadline reports that actor Chadwick Boseman has signed on to play Black Panther in five different Marvel movies.
Looking at the announcements made by Marvel today, it was clarified that his first appearance (in full costume) will be in Captain America: Civil War and then he will appear in his own solo movie on Nov. 3, 2017. That is two of the five movies. Don't be surprised to see him in both The Avengers: Infinity War movies and then maybe a second solo movie when Marvel Phase 4 rolls around in 2020.
Kevin Feige also said at the big Marvel announcement that Wakanda would be introduced in the Black Panther movie, which makes it look like it will either take place in his home land, where he is the king, or it will deal with his country's relationship with the outside world.
For the uninitiated, Black Panther is T'Challa, the king of the fictional African nation of Wakanda. The nation is extremely wealthy thanks to the fact that it sits on a valuable source called Vibranium (which is what Captain America's shield is made of). He also came to America for a time and integrated himself with the heroes of the country, becoming a member of The Avengers.
And who could the villain be? Well, check out the following still from the Avengers: Age of Ultron trailer of Andy Serkis (Gollum from Lord of the Rings) in his still unannounced role, and fans of comics might recognize him as Klaw – Black Panther's biggest enemy. Could Klaw be set up in the next Avengers movie and then lead into the Black Panther solo movie?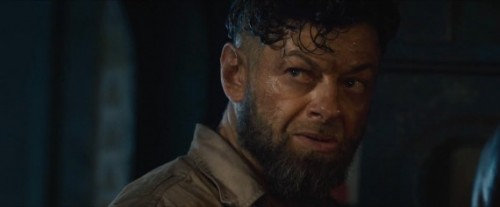 No director has been signed yet, so don't expect any more information about the Black Panther movie for at least another year. Just know that he is finally coming.