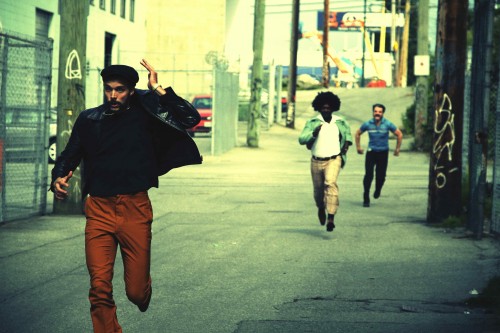 Renegade Cinema was asked to take an early look at what will soon be a film that is going to make the rounds of Midnight movie circuits, College Campuses, and your own living room as a drinking game. Bad City, the self proclaimed Canucksploitation film, is full with cheesy dialogue, intense bravado, intentional bad editing, and a third act that will knock you out cold.
"The Night Bear is the noblest of all the night animals."
Detective Reverend Grizzly Night-Bear
This is it. This is the Grindhouse movie we didn't know we wanted to see when Tarantino and Rodriguez released their double feature in 2007. But it wasn't for another 7 years before Vancouver Director Carl Bessai finally delivered it to us. With a screenplay by actors Aaron Brooks (Alien Trespass) and Dustin Milligan (90210) who also star as Detective Franky New-Guinea, and Detective Reverend Grizzly Night-Bear respectively, we are witness to a film that pays homage to Grindhouse, and yet still is well written enough to entertain any discerning Googolplex audience.
Bad City is sold as a lost gem. A 70s Canadian movie created to cash in on the Blacksploitation fever of the time, but because Canada was not home to many black actors all that was left was to make a cop film that has all the tropes of the genre but without the oppressive 'man' keeping them down. Although in this case metaphorical "Man" is their own Police chief simply known as 'The Chief' played by Tom Scholte (probably best known from the short Babette's Feet- but that might just be me).
The story is a tired but solid one: Cop loses partner, Cop gets new partner, Neither Cop wants to work together, but they both must to do so in order to stop an evil Kingpin- complete with stereotypical Southern accent (because all bad men in the 70s were Southerners) who became Mayor by killing the Mayor in order to take his drug business to the next level. Throw in a double crossing dame, a Father-son story that will rip your heart out, and enough blood to scare Greg Nicotero, and you might just understand the level of crazy you are in for.
"I'm sorry I used you as a Human Shield, just now."
Detective Frank New-Guinea
Sometimes funny. Often hilarious. But always offensive, Bad City rivals Uwe Boll's Postal, and Robert Rodriquez' Machete, or more on the nose, 74's The Super Cops. 95 minutes of rampant sexism, badly choreographed pugilism, over the top acting, and oozing with plenty of machismo, in other words, perfect Grindhouse.
"Not that I believe you are a real cop, nor do I believe that you're a real Reverend."
"Guess what Daddy-o? I am a real both of those."
"Yeah, who would make you a Reverend?"
"The people."
Bad City will be making its Premiere in September at the Oldenburg Film Festival in Germany (labelled the German Sundance by Variety), and its Canadian Debut later this fall. Rest assured when the Official Trailer is released Renegade Cinema will be posting it post haste. Until then take a look at their original IndieGogo trailer that clearly has gone through some iterations since, but still has kept the same insanity.
James C.