Fiendish Flicks Friday is here again, and this week with it I bring you a bit of Cinema Fantastique, hailing from France. Written and directed by Luc Besson, who gave us films like Wasabi
(which deserves its own Fiendish Flicks status) and The Fifth Element, The Extraordinary Adventures of Adele Blanc-Sec is a fantastic and absurdly fun film. Filled with mad science, ancient Egyptian mysticism and of course a troublesome Pterodactyl, it stars the lovely Louise Bourgoin as adventuring Author Adele, who is on a quest to find a cure for her catatonic twin sister. 

This movie bears Besson's trademark off beat humor, energetic pacing and stunning visual style. A sort of Steam Punk Laura Croft story with a darkly comedic twist, including one of the over the top chase/fight scenes that Luc Besson is known for. Based on a comic by Jacques Tardi, it kicks off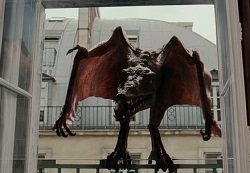 with an eccentric Professor with the power to regenerate the dead (played by Jacky Nercessian), who tests his ability by hatching a pterodactyl egg that had been resting peacefully in a museum of natural history from the comfort of his easy chair, within his humble Parisian flat. Meanwhile, our flick's heroine is off robbing the tombs of Egypt in a search for the desiccated remains of King Ramses II's personal Physician. With what we'll call a successful trip, she returns to find that the Professor, the only one who could possibly help her find a cure for her twin's
catatonia, is on death row for the terrible trouble his resurrected Pterodactyl has wrought throughout the city. She must find a way to reign in his pet project, avert the attention of the hapless police and help him escape before his execution, or all hope will surely be lost. 

Fantasy, action, and a bit of dark comedy, The Extraordinary Adventures of Adele Blanc-Sec is a great flick to pop in on a Friday night. It wont scare your pants off, but it will be a guaranteed good time for those that like their adventure with a side of the surreal. In fact, you should make a night of Luc Besson's flicks, this film, Wasabi, La Femme Nikita and Fifth Element are all great fun.
Au revoir until next week, my fine young fiends- Ruby