Well, well well. Isn't this interesting. Turns out AMH's writers were saving some pretty god punches for the end.
Wednesday's season finale began with an obnoxious montage of our witches in what seemed to be a Stevie Nicks music video. Stevie Nicks saunters around the house singing while Zoey levitates on her bed, Queenie summons Nan, Misty Day brings a plant back to life, and Madison takes a bath and lights some candles. It's neat to see all our old friends killing it with the magic. AHS Coven deserves props for creating a world with distinct characters that have unusual powers and who happen to be witches, much like a superhero comic. But it's quite annoying to find out during the final credits that this entire debacle was most likely constructed for the sole purpose of promoting Stevie Nicks' new album.
Speaking of credits, the opening titles still gave me goosebumps. Never gets old. I will miss it!
But back to the Coven. The women sit at a long table for dinner, prepared to begin the trials of the Seven Wonders that will determine the next Supreme. They give cheers, Cordelia says they'll kick ass. Bring it on.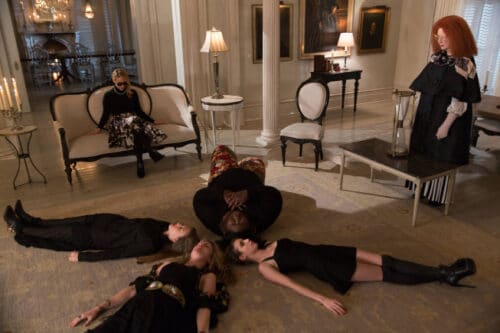 Misty goes first. They bring candles to each other. The first task is a mind control game. Misty makes Queenie slap herself. Madison makes Kyle (the butler) drop his silver tray of wine and make out with her as Zoey watches helplessly. Then she makes Zoey slap herself and makes Kyle lick her boots, as if mouth-raping him wasn't bad enough. But then Zoey makes a come-back and mind-controls Kyle to make out with her, and they do it all lovingly, and this enrages Madison so much that she makes Kyle attack her and throws him across the room!
Bitches acting crazy! (It's pretty sexist)
I don't know who won, but it's time for the next challenge. They must go to hell and come back. Cordelia reminds them that getting to hell is easy, but getting back is hard, and if you're not back by sundown, you die.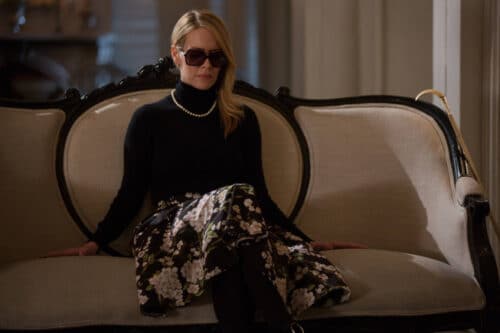 Hell for each witch is different, of course. For Queenie, it's working at the horrid fried chicken place. For Madison, it's starring in a Disney show (ha ha ha).  Zoey wakes up and says Kyle kept breaking up with her, which frankly, I find pretty pathetic, considering he has some major mommy issues and isn't even alive! Lastly, Misty hasn't come back.; she's stuck in science class dissecting frogs and she cries and hates it and keeps bringing them back to life again and again.
She has to get back on her own, Myrtle says. Cordelia tries to help her. "We are all waiting for you," she cries over her comatose body. But time is running out, as indicated by the giant hourglass. Times runs out and she dies; she melts into the ground. Or dissolves. Into wherever. But Cordelia is devastated and cries and grieves. And of course Madison is a huge bitch about it.
The next challenge is transportation, and the girls engage in a lighthearted game of tag, transporting here and there in the front yard.  It's all fun and games until Zoey accidentally transports herself onto a pike on the fence. That's a pretty egregious mistake, she should probably just be immediately disqualified from being the Supreme (she kind of is). And in any case she's clearly going to die because the spike has gone through her chest.
Queenie tries to save her, blowing into her mouth, fruitlessly. They ask Madison to bring Zoey back to life but she refuses.  She kills a fly and brings it back to life just as a big f-you to them. Myrtle tell hers, "If you refuse you don't deserve to be Supreme." "She lost," Madison replies. "Crown me or kiss my ass." I don't think anyone in the history of earth has won the throne by saying that, but what do I know?
They all grieve for Zoey. Myrtle says she had the makings of a fine Supreme leader. Kyle cries into her hand. We are not sad because she's clearly going to come back to life.
Myrtle and Cordelia have a little chat, which turns out to be supremely (hahaha) important. Myrtle says Cordelia is the next Supreme. It was obvious all along. She carried her mother's blood in her, after all. This makes a lot of sense, and is definitely a high point in the show. Cordelia proves this point by conjuring up the Seven Wonders before everyone.  She makes Queenie dance, brings fuego to the candle and fireplace, and even lifts a piano with her mind!
Later, Madison accuses them of chicanery and tries to pack and leave. Kyle attacks her, angry that she didn't bring Zoey back to life when she easily could have. In the meantime, Cordelia is trying to bring Zoey back to life, and we must assume she can, since she's Supreme-like now. But Kyle ends up strangling Madison, after she begs for her life and tells him she did it all for him, because she loved him. "You're not that good an actress," he says, and kills her.
I must not be the only person who wonders why in the hell Madison didn't just use her absurdly powerful skills to PUSH KYLE OFF of her, am I? So, she really couldn't get out of that, is that what you're telling me? In fact, the less said about this, the better. Why should I waste my energy on writing about the show when they writer's didn't waste nearly enough energy themselves?
But Zoey is back to life now, of course. I guess the only characters who died were Nan and Misty. Things oddly seem to jump ahead in time a bit.
Spalding the ghost comes and says something about burying Madison. Cordelia, now the Supreme, has a news interview and tries to recruit more witches. Inexplicably, she has eyes again and it's ridiculous. Myrtle says there is a punishment for a witch killing another witch, because she killed the other witches in the Council. Why is she bringing this up? Well basically Myrtle wants Cordelia to kill her for punishment by burning her at the stake.
Why she wants to burn up, I haven't the faintest idea. Cordelia says she won't do it, that she's her real mother, blah blah, but we already know she's going to do it. So they all make that trek again to that barren desert witch hill (where is this place located in Louisiana anyway?) and Myrtle is burned at the stake FOR NO REASON, all to Stevie Nicks playing again. Now only Cordelia, Zoey, and Queenie remain.
We cut to some time having passed. Apparently many these young witches are lined up in front of the coven, having heard of it being a safe-house from the news. Coredelia tells Queenie and Zoey that they will be the next Council. They are honored of course. Basically all the good characters left! (Minus Nan and Misty)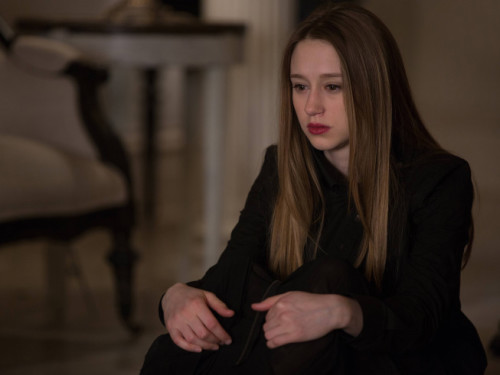 Fiona makes an appearance. There's a flashback to Fiona and the Axeman when we last saw them, having an argument. They make out. It's insinuated they had a deal to fake Fiona's death, and she tells him that he served his purpose. Cutting to present day, Fiona now appears to Cordelia and is very sick with cancer. The lively/sexy person she had seemed to be before was a sort of conjured avatar-embodier, and her goal was for Cordelia to identify the next Supreme, so that Fiona would take the new Supreme out. However, this plan failed when she found out that the Supreme was her own daughter.
"You took my power the moment I gave birth to you… you were a constant reminder of my worst fears," Fiona says. "It was nothing personal, darling. I loved you plenty."  She says that she can feel the power coming off Cordelia, a conservation of energy. "I had to die for you to live." Cordelia responds, "I cry for the girl who cries when you die." And Fiona says, "When I finally die you'll fulfill your destiny and lead this coven better than I did. But you won't look as good as I did doing it."
Cordelia calls her mother, "A divine being having a human spirit," and tells her that "The only way out is through; feel the pain and fear, and let it all go. I don't think we ever hugged…"
And so they hug, and Fiona dies in her arms.
But! Fiona awakes in a bedroom, and the Axeman is there. She is startled and confused, and he says, "Every morning you wake and don't know where you are and we fight." For eternity.  He punches her. "We had a deal baby."
Fiona, realizing her fate, says, "I can't spend eternity here! It reeks of fish and cat piss. I want my daughter!"
"Just relax, we are in heaven," says the Axeman. In the corner, Papa laughs at them in hell.
New girls come in, Kyle is still the butler, and the Coven is back and better than ever. "It's our time to thrive," says Cordelia. THE END.
And with that, our tale comes to an end. It's hard to believe the day has finally come when we say goodbye to all our old witches. The show ended on a satisfying note, with our malevolent characters getting their just desserts, and our benevolent characters coming out on top at the end, except for poor Misty Day. The biggest mistake the show made was bringing in too many divergent twists that didn't culminate into anything significant and didn't propel the  plot forward. If you don't believe me, just take a look at Murder House and Asylum. If you think about it, seasons 1 and 2 came off as coherent and chronological, almost like extended movies (which is what any good series should feel like by the finale). Coven falls short of this, coming off as discombobulated, despite its innovation, sharp dialogue, and interesting characters. Overall I rate the season as a 5; barely passable, but clearly original and certainly not derivative. And isn't that why we're in this business anyway? To watch and enjoy films and TV shows that are completely unique, that take us away to a far off world unlike our own, shows that aren't the same processed garbage of the past?
So Renegade readers, now that our recap ends, I ask of you: What horror trope and setting will AHS Season 4 bring us?