I decided to end the week with a little camp meets rock 'n' roll, with the 2009 fiendish flick Suck. Fans of music will get a kick out of this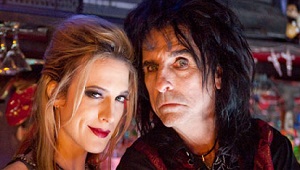 flick, which features rock legends Alice Cooper, Iggy Pop, Henry Rollins and Moby, who is thrown into the mix as the crude and less than lovable band leader of the meat wielding, Citizens of Steak.
This horror comedy follows the misadventures of struggling Canadian band 'The Winners', who find new found fame after the band members one by one get turned into vampires. The vamping starts when band member Jennifer (Jessica Paré of Mad Men) spends the night partying with creepy master vampire Queeny, who is played by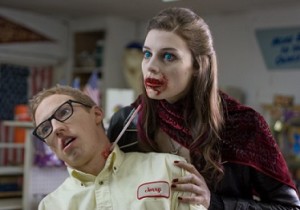 Burning Brides front man Dimitri Coats, turning her into an ethereal rock goddess with a thirst that can't be easily quenched. Following Queeny and the band on a personal vendetta is Eddie Van Helsing, played by one of my movie faves, Malcolm McDowell. David Foley adds to the laughs as The Winner's morally bankrupt, off again, on again Band Manager.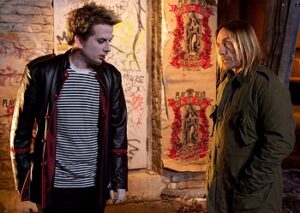 Honestly, I didn't expect much from this little film, but I was pleasantly surprised. Written and directed by  Rob Stefaniuk, who also plays Winners band leader Joey, Suck is full of comedic cameos. Not likely to fill you with fright, but it will definitely make you chuckle as the body count rises. Where other recent vampire movies of late have sucked, Suck actually kind of rocks.