Director: John Krokidas
Writers: Austin Bunn & John Krokidas
Cast: Daniel Radcliffe, Dane DeHaan, Michael C. Hall, Jack Huston and Ben Foster
As a writer that dreams in movie scenes, when asked to see a movie about writers, of  course I jump at the chance. The movie offered was touted as one of the best movies of 2013, Kill Your Darlings, starring Daniel Radcliffe, Michael C. Hall and Dane DeHaan, and had such a limited release that it played for one night, one showing, at one art house cinema in my town, which isn't what you would call small. Overwhelmingly curious as to what makes Kill Your Darlings the best movie of the year, as well as the most difficult to see, I scrambled to get to the theater.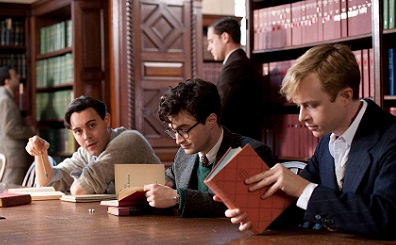 Set against the backdrop of Columbia University, 1944, first time Director John Krokidas gives us a telling of the events that brought together the greatest poets of the Beat Generation, in fact not 'poets of', 'creators of' the Beat Generation. A coming of age, based on true events story about Writer Alan Ginsberg (played by Daniel Radcliffe), and his relationship with the enigmatic Lucien Carr, who brought him together with Writers Jack Kerouac and William S. Burroughs. An ambitious, inspiring, drug fueled look at the circumstances leading up to the murder of Carr's alleged obsessive secret lover, David Kammerer, played by Michael C. Hall.
If you wish to keep the image of Daniel Radcliffe as the shining innocent, and brave Harry Potter, you best skip Kill Your Darlings, because this movie will do just that. If his performance in A Woman in Black and A Young Doctor's Notebook didn't break him free from being pigeon held as 'The Boy Who Lived', his incredible portrayal of Ginsberg will surely burn away any preconceived notions. Krokidas doesn't pull any punches, and Radcliffe holds nothing back in the sexually graphic scenes, making the movie shocking yet not gratuitous, though are no doubt why this film hasn't seen a wider release. Daniel Radcliffe fully transforms into the young poet, making for a wholly believable performance. The entire cast was at their best, Dane DeHaan's charismatic performance in the part of Lucien Carr, Ben Foster as William Burroughs, Jack Huston as Kerouac and a post Dexter Michael C. Hall as the obsessive, ill fated Professor David Kammerer, making for a perfect storm.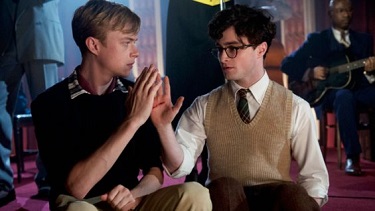 Proving that the 'best of' doesn't have to have the biggest boom, capping off a year of serious science fiction block busters and super heroes a plenty, this colorful little slice out of American history is a must see. Search it out, see it, you wont be sorry.