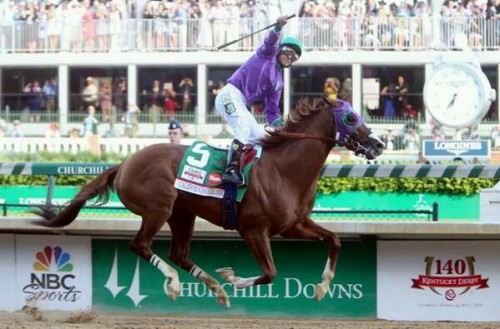 I know normally these things are posted on Saturday but Saturday is a day in sports that only comes around once a year and to me is known as…THE GREATEST DAY IN SPORTS.
For the 2nd or 3rd straight year the first week of May has been a blockbuster of a sports day, May 3rd was no exception. On May 3rd we have NBA playoffs basketball, the Kentucky Derby and a big time Floyd Mayweather fight.
NBA Playoffs – This is the first time in history that 3 game 7's have been played on one day. Indiana finally returned to regular season form and beat the lowly Atlanta Hawks. With Memphis star player (Zack Randolph) suspended for fighting, the Oklahoma City Thunder beat the Grizzles. With the world watching over the recent controversy, the most talked about team in basketball the Los Angles Clippers beat the Golden State Warriors.
The Kentucky Derby – California Chrome not only won the derby he kicked every other horses ASS. No one cares about horse racing except for this time of year. Most people that don't usually watch the races only watch if a horse has a good chance to win the triple crown. It may be too early to know if California Chrome will win at Belmont, but the Preakness is going to be won by this horse in two weeks. Then everyone will wonder "Does this horse have what it takes to finish off the triple crown."
The Moment – Mayweather vs Maidana. Now this fight wasn't the great as it was built up to be (none of Mayweather fights are) but Maidana did give Floyd a pretty interesting fight. There was one moment where I thought that Mayweather was going to get knocked down because of the angle he was hit at. That didn't happen and like 45 previous time Mayweather showed that he is the king of boxing.
Fargo – I know, I know. I don't normally talk about shows in back to back weeks but this is the greatest show on TV right now. I even settled down and watched the actually movie. I would like to say to people that haven't watch this show because you "think" it's going to be like the movie. It's not, this show has a life of it's own and is not just a rehash of the Cohen brother classic.
Agents Of Shield – If you haven't watched this show episode last week, (Nothing Personnel) is a good place to start. I think this is an episode that fans of the Marvel Movies only (not comic book heads), will enjoy. Cobie Smulders reprises her role as Agent Maria Hill. Ward realistically kicks a bunch of ass and Agent Couslen finally figured out who was behind him still being alive.
iHeart Radio Music awards –  I thought that this was a "fairly" new award show and it would suck, not the case at all. Pharrell, Shakira, Usher and Rihanna all made there presence felt there and this actually is now an award show that I am looking forward to seeing in the future.
Grey Anatomy – The much talked about Isiah Washington returned to Grey'. Or should I say Yang flew halfway around the country and returned to Burke (Washington). To my surprise there wasn't a romantic "come back to me Yang" plot that Burke was wrapped into. In fact Burke had a fancy new hospital and wants Yang to take over because Burke is running to Paris with his wife.
The Hatchet
Almost Human
Bad Teachers (not the CBS show, Discovery Channel had a version too apparently)
Renewals
Hot In Cleveland
Children's Hospital
Project Green-light (the reality series by Matt Damon and Ben Affleck)
What we're looking forward to next week
David Spade: My fake problems
Watch It Live!
Fargo
Turn
Bates Motel (finale)
The Blacklist (start of the 2 part season finale)
2 Broke Girls (finale)
New Girl (finale)
DVR It?
The Cosmos
Resurrection (finale)
CSI (finale)
Two and a Half Men (finale)
Hawaii Five-0 (finale)
Blue Bloods (finale)
Have something you think I should watch? Let us know. Disagree with a show that I talk about? Let me know as well.