What we know: The last episode of Hannibal titled "Sakizuke" was so gross I couldn't watch the first 2 minutes. We found the last piece of the color wheel horrifically detaching himself from the rest of the palate and jumping into an ocean, trying to escape his captor and thereby killing himself.
As predicted, Will's powers have increased. He is now able to see the crime scene while just viewing the case file. He knows that the killer was placed into his own color palette. Will also figured out Hannibal is the one who put the killer there but Will is keeping this information close to the vest.
Will is getting closer to his trial and Dr. Maurier is distancing herself from Hannibal as a therapist and friend. She also wises up and skips town. Agent Katz is setting herself up nicely to be one of Hannibal's victims. She is asking Will for advice on the color wheel case and Will wants her to take a 2nd look at his case without looking at the evidence. (Which is what detectives normally do)
What will happen next? The upcoming week's episode is titled "Hassun".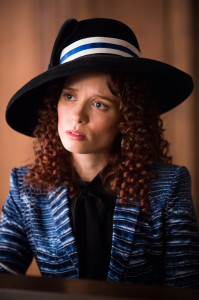 The episode seems to be focused on Will's trial in which Hannibal takes the stand and our old friend Freddie Lounds comes back. Will's trial gets everyone second guessing Will as a killer when a copycat killer starts recreating the crimes Will is accused of.
Pontificating: If, and I mean if, the copycat killer is Hannibal, what is his motive? I not going to go all in on Hannibal being the killer that shakes up Will's trial but I can't help think that somewhere inside Hannibal misses Will.
Now on with the food!!!